The World Steel Association last night released April crude steel production statistics and news is mixed:
World crude steel production for the 62 countries reporting to the World Steel Association (worldsteel) was 128 million tonnes (Mt) in April 2012, an increase of 1.2% compared to April 2011.

China's crude steel production for April 2012 was 60.6 Mt, an increase of 2.6% compared to April 2011.

Elsewhere in Asia, Japan produced 9.1 Mt of crude steel in April 2012, up by 7.6% compared to the same month last year. South Korea's crude steel production for April 2012 was 6.0 Mt, an increase of 2.1% compared to April 2011.

In the EU, Germany produced 3.6 Mt of crude steel in April 2012, a decrease of -5.5% on April 2011. Italy's crude steel production for April 2012 was 2.4 Mt, down by -3.2% on April 2011. In April 2012, France produced 1.4 Mt of crude steel, a decrease of -1.8% compared to April 2011. Spain's crude steel production for April 2012 was 1.3 Mt, down by -14.3% compared to the same month in 2011.

Turkey's crude steel production for April 2012 was 2.9 Mt, an increase of 4.7% compared to April 2011.

The US produced 7.7 Mt of crude steel in April 2012, up by 9.3% on April 2011.

Brazil's crude steel production for April 2012 was 3.0 Mt, -1.2% lower than April 2011.

The world crude steel capacity utilisation ratio for the 62 countries in April 2012 remained nearly unchanged at 81.1% compared to March 2012. It was 1.7 percentage points lower compared to April 2011.
Exactly what you would expect: European recession, US bouncing from a low base and lousy Chinese growth.
The last point is of course the most important. 2.6% annual growth may seem good for China but it isn't. The last four years to April have been respectively 11%, 27%, -3.9% and 9.1%. Abstracting from the GFC you can see the problem.
It was perhaps these statistics that pushed iron ore down again yesterday. Despite the broader market rally, the miracle commodity was down another 0.31% to $130.90. 12 month swaps were better, continuing to base at $123.31. Shanghai rebar was unchanged.
The FT reports as well this morning that the Chinese are backing away from contracts:
Chinese consumers of thermal coal and iron ore are asking traders to defer cargos and – in some cases – defaulting on their contracts, in the clearest sign yet of the impact of the country's economic slowdown on the global raw materials markets.

The deferrals and defaults have only emerged in the last few days, traders said, and have contributed to a drop in iron ore and coal prices.

"We have some clients in China asking us this week to defer volumes," said a senior executive with a global commodities trading house, who warned that consumers were cautious. "China is hand to mouth at the moment."

A senior executive at another large trading house also confirmed there had been defaults and deferrals in both thermal coal and iron ore.
This is reminiscent of 2008 when contracts were suddenly much higher than spot as demand collapsed. One wonders if it will be the Chinese who shortly begin tho agitate for a greater role for spot iron ore. To this we can add more colour (of a dark hue) from Reuters (h/tA63):
…according to Chinese consultancy Umetal. "There's an oversupply of iron ore, and on the other side you have very weak demand. It's very ugly out there," said a Singapore-based physical iron ore trader. Supplies of iron ore from top exporters Australia and Brazil are bouncing back after disruptions due to bad weather in the first quarter. But the increased supply is coming at a time when Chinese demand is slowing along with its overall economy. Prices could eventually be at risk of falling below $100 a tonne, traders say, a level last seen in late 2009…"The ingredients are looking much worse this time given the oversupply, so I wouldn't rule out prices hitting $100 or even breaking $100," said the Singapore trader…"Everybody now expects prices to go further down. If I were a steel mill, I would just buy a small volume, or buy from port stocks which are cheaper," said a trader in Shanghai. The sustained decline in steel prices has been fueling iron ore's slump. The price of steel billet in the key Tangshan area in Hebei province, China's top steel producing region, fell to 3,580 yuan ($570) a tonne over the weekend, said the Shanghai trader, down more than 200 yuan from late March. "Billet could fall another 10-20 yuan today, and this will put more pressure on the iron ore market," the Shanghai trader said. Construction of many high-speed railway projects across China, big users of steel, has almost stopped due to lack of funds, said an iron ore trader in the port city of Rizhao in China's Shandong province.
In a similar (but bullishly coloured) report in The Australian, a Wood Mackenzie analyst described a bullish long term outlook for iron ore and much higher prices in the second half. Colour me skeptical. Barring some miracle, Europe is going to get worse before it gets better and, although China may want to support growth, without turning the real estate spiggot back on they'll struggle. That doesn't mean much lower prices as the 12 month swap is hinting at but certainly not much higher either.
Thermal coal remains under pressure too, yesterday down to $97.50. Coking is stable for now.
Australia's trade deficits are going to be ugly in the second half, as the following charts from the Unconventional Economist show: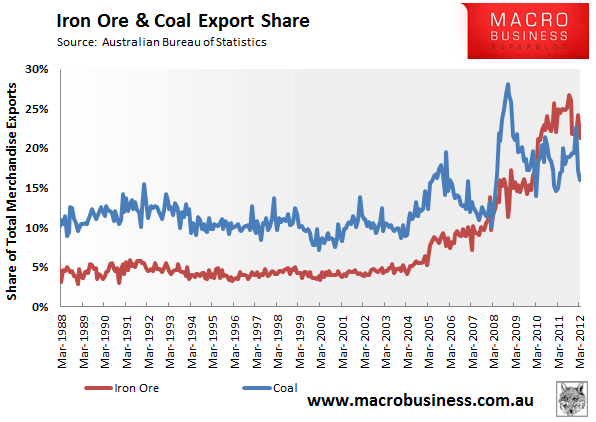 The slowing of demand for Australian iron ore, as evident by iron ore exports contracting by some -$3.1 billion over the first quarter of 2012, was a key factor behind Australia's trade balance moving sharply negative over this period (see below chart).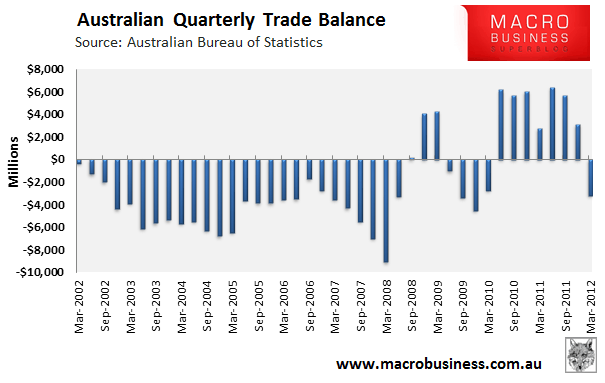 Latest posts by David Llewellyn-Smith (see all)