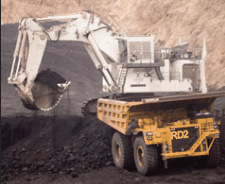 By Leith van Onselen
The Australian Bureau of Statistics (ABS) has just released trade data for the month of January, and it's a shocker, with the trade balance moving to a deficit of $673m in January 2012, a turnaround of $1,998m on the surplus in December 2011.
The worsening trade balance has been driven solely by a reduction in goods and services exports, which slumped $2,279m (8%) to $25,372m. The trade balance would have been even worse had goods and services imports not also fallen by $281m (1%) to $26,045m.
The result has shocked markets, with the Australian Financial Review (AFR) publishing the following in relation to the result:
There has been a massive slump in the nation's trade performance, with the trade balance plunging almost $2 billion from a strong surplus to a large deficit in the space of a month.

In a result that is likely to stun markets, the trade balance fell to a deficit of $673 million in January, driven by a big 8 per cent fall in exports which overwhelmed a modest 1 per cent decline in imports.
Similar headlines are apparent across the business media. The equity market and dollar fell on the result too.
Yet it will be of no surprise to MacroBusiness readers. Houses and Holes predicted last October that the falls in the iron ore and coal prices would produce this outcome (here, here and here).
Turning to the key charts, you can see that a significant portion of the fall in the value of total exports was accounted for by a reduction in iron ore exports (-$1,227m), with the reduction in coal exports (-$268m) also contributing to the fall: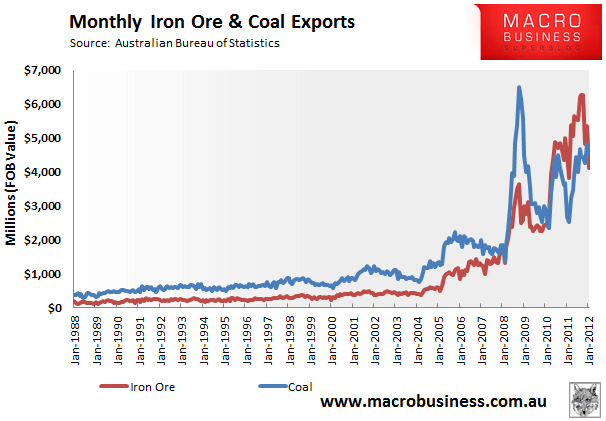 The value of iron ore exports in January were down $2,154m from their peak levels reached in October 2011 ($6,275m). The fall in iron ore exports now sees coal as Australia's largest single export commodity by value, accounting for 23.7% of total merchandise exports in January versus iron ore's 21.4% share: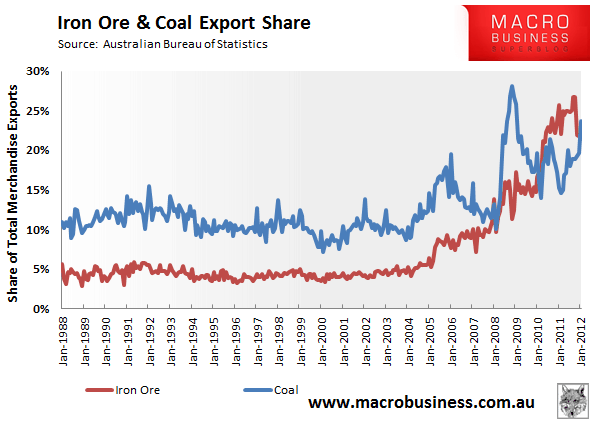 The fall in the value of iron ore exports has been driven primarily by falling demand from China. January's exports to China ($5,163m) were $2,135m below the peak level reached in October 2011 of $7,298m: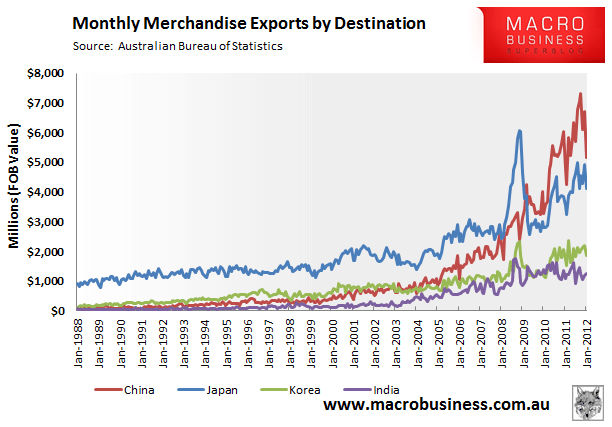 Similarly, the share of total merchandise exports going to China is also falling, down from a peak of 31.0% in October 2011 to 26.9% in January 2012: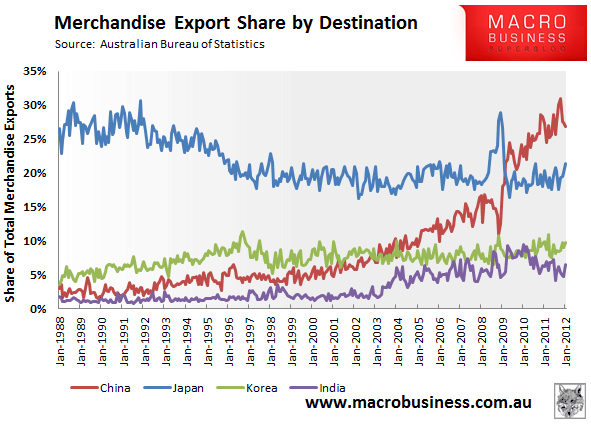 Given its status as the nation's iron ore capital, Western Australia appears to have borne the brunt of the export slowdown, although it remains way out in front of the other states. Western Australian merchandise exports in January ($8,406m) were $2,838m below the peak level reached in December 2011 ($11,244m) Queensland, too, experienced a smaller reduction in exports of -$657m: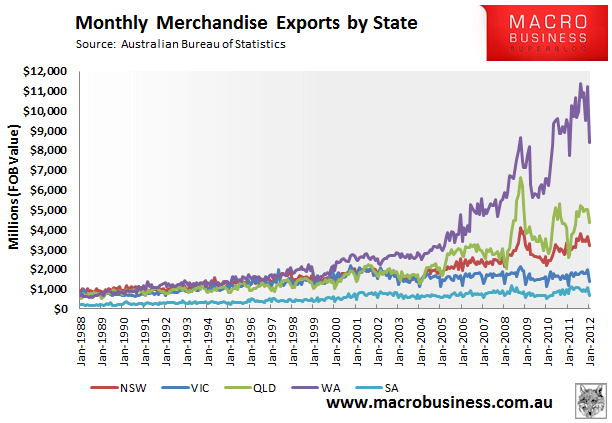 Reflecting the decline in the value of exports, Western Australia's and Queensland's merchandise trade surplus declined by -$3,001m and -$847m respectively: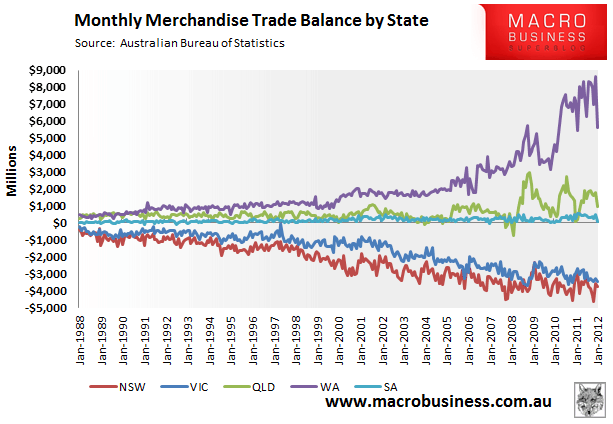 Finally, you can also see the deterioration in Australia's services export, which have been trending down since late 2008 on account of the high Australian dollar:
Reflecting the increased purchasing power, Australia's services imports (mostly overseas travel and tourism) has surged, which has thrown Australia's services trade balance into deficit: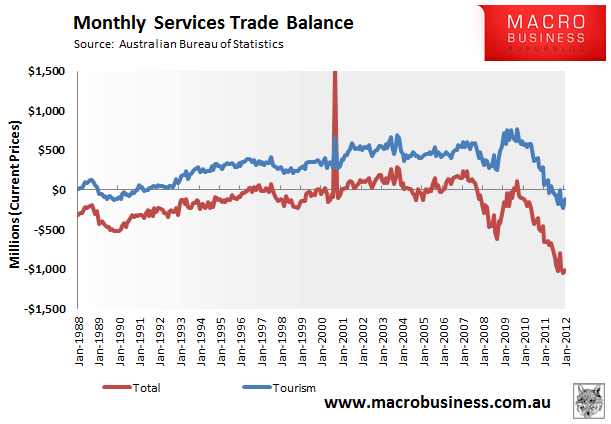 If there is one thing that this trade result illustrates it's that the Australian economy is highly non-diversified, with 45% of our merchandise exports concentrated in just two commodities – iron ore and coal –  and 25% to 30% of our merchandise exports going to a single destination – China. While this industry structure has served Australia well over the past decade as the Chinese economy boomed, it places us in a precarious position should China's economy ever hit a speed bump.
Leith van Onselen is Chief Economist at the MB Fund and MB Super. Leith has previously worked at the Australian Treasury, Victorian Treasury and Goldman Sachs.
Latest posts by Unconventional Economist (see all)