The iron ore price continued to fall yesterday. The spot market dropped another 3.3% to 127.40, now down a dizzying 33%: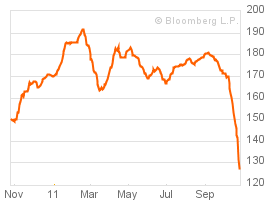 Just as worrying, 12 months swaps resumed their fall, also down 3.3% plus to $113.67: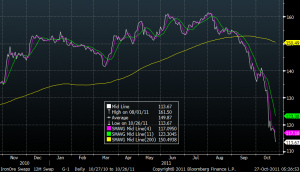 In better news, Shanghai rebar was stable again.
We get more on the market dynamics this morning from Reuters:
China's appetite for iron ore has weakened along with slowing demand for steel from its construction sector, pushing down prices for iron ore by about 30 percent since early September.

Iron ore is China's biggest commodity import in terms of volume and could serve as a leading indicator of slowing growth, which could impact its demand for other raw materials. It comes at a time when the outlook for developed economies is already shaky.

Some mills in China have stopped buying iron ore as they curb steel output. China buys around two thirds of seaborne cargoes to feed the world's largest steel industry and is the biggest market for the mining giants Vale , Rio Tinto  and BHP Billiton  .

Weak steel demand across Asia cut profits at Japan's two biggest steelmakers — Nippon Steel Corp and JFE Holdings Inc — in the fiscal six months to September, and both slashed their full-year outlooks.

Australian producer Fortescue Metals Group , which sells nearly all of its iron ore to China, said it could take months for prices to recover as Chinese mills work off inventories.
Indeed, and that line of thought is bolstered by the following chart showing that Chinese port inventories actually climbed a little in recent days: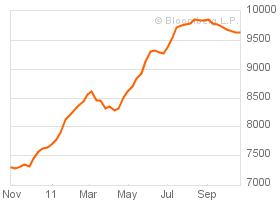 Back to Reuters:
"The market has come under huge pressure with prices moving $5-10 each day, and until steel prices stabilise in China, I can see prices falling further," said Roddy Mann, senior iron ore trader at London-based Metalloyd.

"People are worried about steel production cuts; some mills have been cutting production by 20-30 percent … There is still some space for iron ore prices to soften further and there is little light at the end of tunnel currently."

…"Much of this fall is sentiment driven," said Christopher Ellis, an analyst at the Metal Bulletin iron ore index.

"Underlying changes in fundamental demand and supply have not been so severe. Many  market commentators were keen to point out that iron ore prices were remaining strong when other global commodities were slumping over the summer; now iron ore has caught up."
As I have noted before, that is not the point. In markets governed by the perception of supply constaints, speculatively driven price spikes are the norm, as are price crashes. Volatility rules. Observing that this is sentiment driven is like saying your car has wheels. Back to Reuters:
The rapid drop in iron ore prices "implies demand for steel in China is pretty bad and a lot of steel mills have to cut production, so the whole economy is bad", said Henry Liu, regional head of commodity research at Mirae Asset Securities in Hong Kong.

"If iron ore prices drop so much, it doesn't mean (Chinese mills') profit margin will improve, because steel demand has been dropping," he said.

…A growing number of Chinese steel mills have shut for maintenance — effectively curbing output to cut losses.

"Steel mills have started to cut production and have suspended iron ore purchases, while miners keep on producing and delivering spot cargoes, so we see iron ore prices diving these days," said an iron ore buying official with a mid-sized steel mill in south-central China.

"We're just buying on a hand-to-mouth basis now."

…"Everyone is desperate to lower their production costs right now. Demand for steel is very weak. If you look at investment in high-speed rail, for example, there has been a fall of 50 percent," said Xu Zhongbu, chief executive of Beijing Metal Consulting, which works for some leading Chinese steel mills.
As we know, the Chinese government is working it's way through its rail contruction problems but who knows how long that will take? Moreover, there is little immediate prospect (although perhaps by year end) of China easing monetary and macroprudential policies. This makes me think the iron ore price is likely to fall further still and, although, it should ultimately bounce, who knows to where?
Iron ore represents 30% of the trems of trade (TOT). With falls also in coking coal (though we're not sure how much) we're already looking at a TOT shock of 10% plus in January (notwithstanding currency influences and coking coal following iron ore down). That means lower national income growth, a bigger budget deficit, and a big blow to the profits of the four mining companies that make up the mining half of the ASX8 of drove 96% of profit growth this year. All of this will hit an economy with falling asset prices, as well a weak confidence and consumption.
If that's not the blow to demand that the RBA has said it will cushion "if needed" then I don't know what is.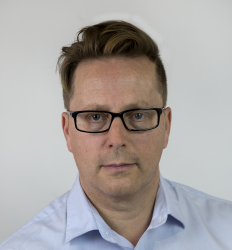 Latest posts by David Llewellyn-Smith
(see all)