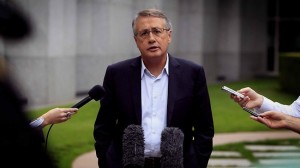 Like Kevin Rudd before him, Wayne Swan has penned his defining missive in The Monthly magazine.
It is a long essay and much of it is dedicated to establishing a context for Western societies , especially the US, to debate the rise of elite wealth and the decline of the middle class. You can read it here. Having set the scene. Swan then launches into the local mining billionaire's and their influence on policy:
In the last couple of years, Australia has seen the emergence of our own distributional coalitions willing to use their considerable wealth to oppose good public policy and economic reforms designed to benefit the majority. The combination of industry deep pockets, conservative political support, biased editorial policy and shock-jock ranting has been mobilised in an attempt to protect vested interest. It's reflected in how the Coalition under Tony Abbott has recently radicalised itself into an Australian version of the Tea Party, more than willing to kneecap Australia's three-decade reform project for cheap political points.

There are many Australians of great wealth who make important and considered contributions to the national debate. I always welcome that involvement in the discussion of public policy whether I agree with them or not. What characterises the vested interests that I'm concerned about is how they misrepresent their self-interest as the national interest. There has been a perceptible shift in this country in recent years, and it is sadly very much in the American direction of stronger and stronger influence being wielded by a smaller and smaller minority of vested interests. Crucially, much of our media seems more and more inclined to accept that growing influence.

I know that 99% of businesspeople want the best for Australia, and that most people want us to remain the nation of the fair go. I talk to business owners from coast to coast and am constantly impressed by their forward-looking and can-do natures. For every Andrew Forrest who wails about high company taxes and then admits to not paying any, there are a hundred Australian businesspeople who held on to their employees and worked with government to keep the doors of Australian business open during the GFC. Despite the howling of a small minority, the vast bulk of the resources industry is in the cart for more efficient profits-based resource taxation which serves to strengthen our entire economy. The vast majority of our miners accept that they have a social obligation to pay their fair share of tax on the resources Australians own.

But again, it's that tiny 1%, or even 0.1%, who are trying to drown out the others, who are blind to the national interest, and who pour their considerable personal fortunes into advertising, armies of lobbyists, dodgy modelling and corporate and commercial manoeuvring designed to influence editorial decisions.

The latest example of this is the foray by Australia's richest person, Gina Rinehart, into Fairfax Media, reportedly in an attempt to wield greater influence on public opinion and further her commercial interests at a time when the overwhelming economic consensus is that it's critical to use the economic weight of the resources boom to strengthen the entire economy. Without a blush, her friend and fellow media owner John Singleton let the cat out of the bag when he told the Sydney Morning Herald that he and Rinehart had been "able to overtly and covertly attack governments … because we have people employed by us like Andrew Bolt and Alan Jones and Ray Hadley who agree with [our] thinking".

I fear Australia's extraordinary success has never been in more jeopardy than right now because of the rising power of vested interests. This poison has infected our politics and is seeping into our economy. Though these vested interests have not yet prevailed, every day their demands get louder.

Politicians have a choice: between exploiting divisions by promoting fear and appealing to the sense of fairness and decency that is the foundation of our middle-class society; between standing up for workers and kneeling down at the feet of the Gina Rineharts and the Clive Palmers.

Australia's future in the Asian Century will rely on retaining a strong, united, middle-class society. We will need a nation which calls on everyone's skills; which is tolerant not resentful; which recognises the need for public investment in skills, infrastructure and education; and which continues to extend a social licence to the market so Australia's flair for entrepreneurship, innovation and free trade can continue to create more wealth for all of us.

Instead of capitulating to the demands of the vested interests, and allowing the benefits to amass disproportionately to them, we have a chance to bend the extraordinary shift in the global economy from West to East to the advantage of all Australians. This is neither the fierce pro-market capitalism that got us into a global financial fix, nor is it anti-market socialist ideology. It's simply the best way to keep growing Australia's economic pie so ultimately we all end up better off. Ensuring the social contract does not erode is vital if we want to avoid a hollowed-out capitalism assured of its
own collapse.
Regular readers will know that I agree completely with the spirit of this argument. Vested interest are poisoning the political process. And they should be held accountable for their perversions of public policy. But that is only half of the problem. The other half is flawed public process process, especially that used by Treasurer Swan for the past four years, which has egged on the vested interests that are always waiting in the wings, even if especially so right now.
Swan's record of public policy process has been one of doing things behind closed doors to the detriment of business and democracy.
Witness, during the 2008 GFC, the entire banking bailout was negotiated with business interests behind closed doors. We still don't know many details, a phenomenon I call "Invisopower!".
Then throughout 2009, the Rudd Government negotiated its original Carbon Pollution Reduction Scheme (CPRS) behind closed doors. The policy was announced up front, and an endless procession of special exemptions were struck with business interests as they traipsed to Canberra. The carbon tax was implemented in the same way, though less so.
The same approach was adopted with the Resource Super Profits Tax (RSPT). Only the negotiations didn't proceed fast enough and the business interests publicly attacked the government. The special exemptions were then negotiated with a gun shy new Prime Minister.
All of these episodes have the consequence of encouraging rent-seeking in business. Public policy used to a consultative process, followed by a softening up process of the public to ensure they not vulnerable to vested interest campaigns. Then finally an announcement of the policy shift without further compromise.
To announce policy on the run up front and then make compromises behind closed doors as the interests come knocking is asking for trouble. In an economy dominated by concentrated monopolies, duopolies and oligopolies it's a red rag to a bull. Why compete when you can simply lobby or pressure the government to prevent competition. Even as both you and the government trumpet your "free market credentials".
One wonders where the political culture of compromising with interests comes from. It is tempting to see it as the triumph of state political practice over federal. After all, state politics is basically the business of negotiating with interests and Labor has been doing it in the major jurisdictions without much interruption for a long time. Kevin Rudd came from state politics. So did Wayne Swan.
If the vested interest that Swan identifies, and frankly they're much more widespread than his narrow targets, are to be stopped then at least part of the answer lies in better policy process.