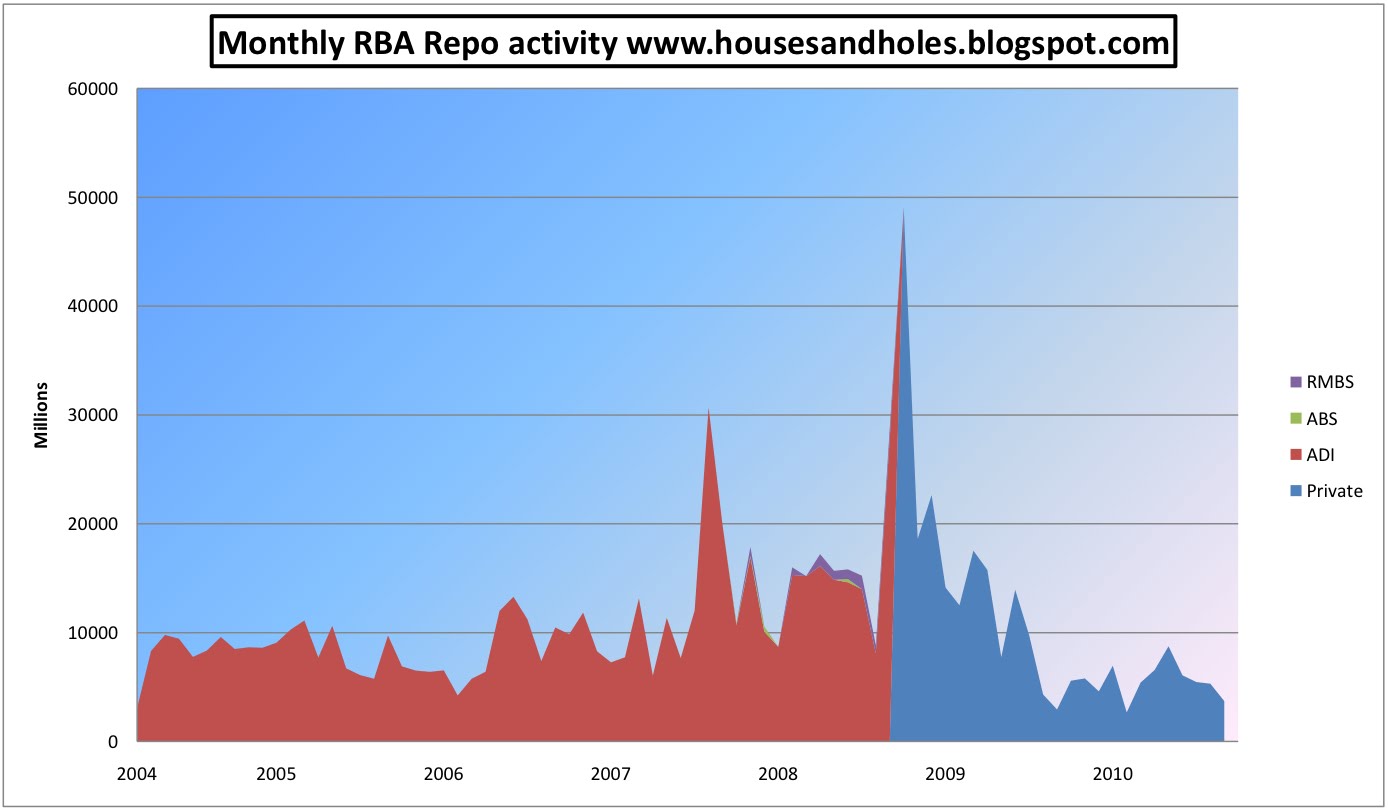 There are a couple of breathless reports today, one from Eric Johnston and another from David Uren, on yesterday's announcement that the RBA now has financial stability as an official part of its mandate.
Both are at pains to report that not only has the remit been expanded it's been limited too. Uren quotes from the RBA release:
The Reserve Bank's mandate to uphold financial stability does not equate to a guarantee of solvency for financial institutions, and the bank does not see its balance sheet as being available to support insolvent institutions.
Whilst it is encouraging that our financial overlords still bother with the quaint notion of moral hazard, we should take a quick look back at whether or not such clear distinctions are actually applicable to the RBA's role.
In order to facilitate such a glimpse, this blog has gone to the God awful trouble of aggregating and graphing in monthly increments the history of RBA repo transactions since 2004, before which there were none (at least, no record of such). Repos are short-term cash loans from the RBA to banks secured against collateral. In other words, they provide liquidity.
It is pretty clear in the graph that what transpired for eighteen months between late 2007 and early 2009 cannot simply be described as a liquidity crisis. If banks require the kind of support apparent in the graph – with many months above and around $20 billion and, in the heat of the crisis, approaching $50 billion – then the notion that the RBA will never support insolvent institutions looks rather silly.
Indeed, it is only the arrival of the government guarantee in December 2008 (not a bailout, either!) that turns the gushing RBA tap off.
Now, there are a couple of problems with this blogger's argument. If you examine the graph closely, you will see that in late 2007, right around the time the French declared the US asset-backed market a circus, the RBA suddenly begins accepting some new forms of collateral for repo loans: asset-backed securities (ABS) and residential mortgage-backed securities (RMBS). Prior to this time, such assets were not considered of sufficient quality for the RBA to accept them as collateral. Then, having suddenly been allowed, they mysteriously disappear – poof!
No, the assets did not enter a wormhole. Rather, the RBA changed the rules by which it categorises repo collateral so that from late 2008 all are recorded equally as "private securities". So, having torn up its rule book, the RBA replaced it with a shiny new one, with no pages in it.
The problem, then, for this blogger's argument, is that we have no idea who, why or what is being provided liquidity.
Add to this that we don't know the who, why or what for banks that used the government guarantee and we have very little to go on.
Except, of course, the deep sense of suspicion that this Invisopower! leaves behind.
P.S. Since I stayed up very late putting together the damn data for the graph, the least you can do is forward the link to absolutely everyone you know!
Latest posts by David Llewellyn-Smith (see all)