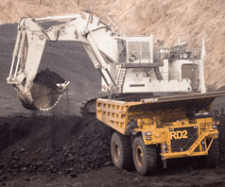 By Leith van Onselen
The Bureau of Resources and Energy Economics (BREE) released its Resources and Energy Quarterly—March quarter 2012 (report below) yesterday, which provides a bullish outlook for Australian commodity exports. From the press release [my emphasis]:
Australia's resources and energy commodity export earnings are forecast to continue to grow over the medium term to reach a record $225 billion (in 2011–12 dollars) in 2016–17…

The growth in resources and energy export earnings over the next five years is forecast to be underpinned by increases in export earnings for most commodities, including LNG, iron ore and thermal coal.

'Despite projections of lower commodity prices relative to 2010–11 over the medium term, increased resources and energy export earnings are projected to be underpinned by substantially greater export volumes for most commodities' said Professor Grafton, BREE's Executive Director and Chief Economist, on releasing the report.

A large proportion of increases in export earnings are expected to come from LNG, with eight projects (including the almost complete Pluto project) under construction. Export volumes are forecast to increase from 20 million tonnes in 2011–12 to over 60 million tonnes in 2016–17, while export earnings for LNG are also forecast to treble over the same period to $30 billion.

'The growth in Australia's LNG industry over the next five years is underpinned by over $175 billion worth of investment to expand capacity in Western Australia, Queensland and the Northern Territory,' said Professor Grafton.

Between 2011–12 and 2016–17 export volumes are forecast to increase for iron ore (62 per cent), metallurgical coal (47 per cent), thermal coal (65 per cent), copper ores and concentrates (77 per cent) and alumina (29 per cent).

'The increase in Australia's export volumes for most commodities reflects commitments by the industry to increase production and expand infrastructure capacity over the medium term,' said Professor Grafton.
The BREE's forecasts are good news for the Australian economy. The economy's concentration of merchandise export earnings in just three goods – iron ore, coal and natural gas – has served Australia well over the past decade as the Chinese economy boomed and, according to the BREE's forecasts, our good fortune will continue.
Most of the assumptions underpinning the BREE's analysis are reasonable. The growth projections for the OECD are rightly subdued. However, it is emerging markets that underpin commodity demand and it is here that BREE's analysis starts to look a little heroic.
First of all, the BREE predicts China to grow at 8.8% annually from 2013 to 2017 – faster than the Chinese authorities own growth target of 7.5%. That might be defensible given the Chinese have outperformed their own growth targets for the past several years, but not during a now widely accepted structural adjustment to internal demand. The BREE also forecasts world growth to accelerate to 4.1% in perpetuity: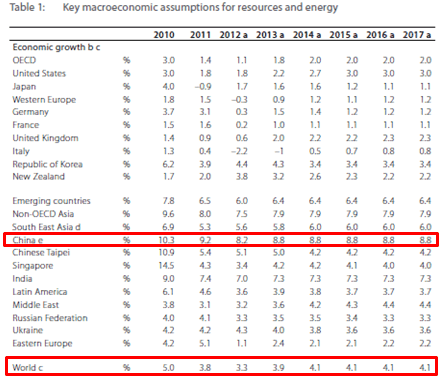 I know that officials need these projections around which to plan but there is little risk built into such growth rates.
Then there are the BREE's price and volume assumptions, which appear equally optimsitic, with a smooth moderation in bulk commodity prices expected: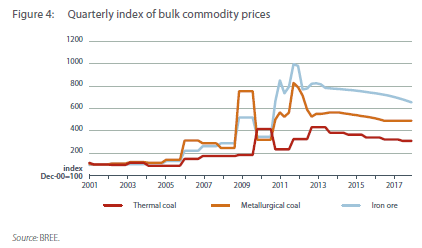 Despite a massive lift in export volumes, which implies large waves of new supply: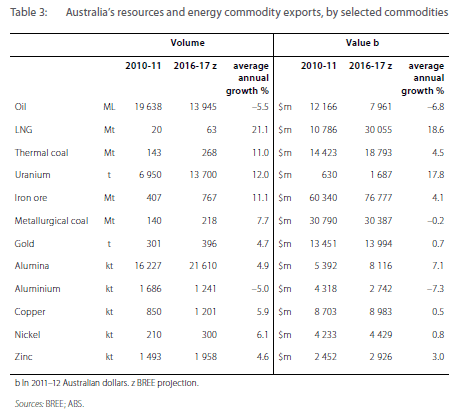 As I've argued before, economics 101 tells us that markets defined by constrained supply are prone to boom and bust cycles. Those that also have a delayed supply response, such as iron ore, tend to be more volatile still. But for the BREE report, prices diminish only moderately even as export volumes boom and thus export earnings are forecast to have a smooth upwards trajectory: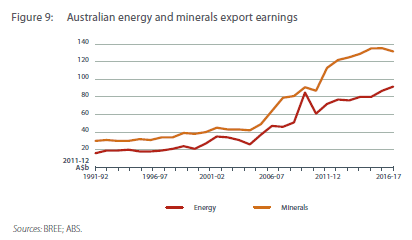 The one unquestionably positive story in the BREE release is that of gas with, as the table above shows, a trebling of LNG export earnings to $30 billion. This is based on the real story of today's huge gas investments in WA and QLD:
As of February 2012, 14 liquefaction projects were committed or under construction around the world, eight of which are located in Australia. Australia LNG liquefaction capacity is projected to increase four fold over the outlook period to total 85 million tonnes in 2017. Most of this additional capacity is scheduled to come online after 2014.
That's some pretty eye-popping factoids and will undoubtedly support the Australian economy's balance of payments position into the future.
But there is still a question over BREE's assessment of LNG price. The tripling in exports is met with little fall in the regional prices. That is again questionable given the price disparity that currently exists between North American gas and North Asian which is very likely to push our US and Canadian cousins to accelerate their push into highly profitable shale gas exports: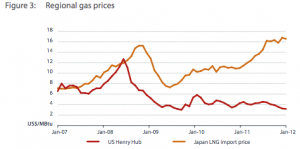 BREE itself admits that it does not yet incorporate any influence from such increased supply (though it offers a quite useful assessment of where current liquifaction plans are at, including 8 planned projects that would swamp Australian supply). And BREE analyst, Alan Copeland, appeared in The Australian today to outline this risk more fully, saying:
"The largest threat to the Australian LNG sector in terms of both export competition and price is from shale gas," BREE analyst Alan Copeland said.

"Despite being distant from the growing Asian market, LNG exports from the US may be price-competitive with other suppliers into Asia because of low cost of feed gas and relatively low capital costs."

…"Even allowing for liquefaction and transport costs, US LNG exports at this domestic price would be highly profitable, given the current Japanese import price of around $US16 to $US17," Mr Copeland said.

…a host of new Australian projects yet to be ticked off could come under pressure and may find it hard to secure new contracts.

"You would have to assume if you were trying to line up Kogas (which is involved in Canadian LNG) or another Asian importer for a long-term contract that they would be looking at the US situation," Mr Copeland said.
It's a delicate dance this official forecasting.
BREE Resources & Energy Quarterly (March 2012)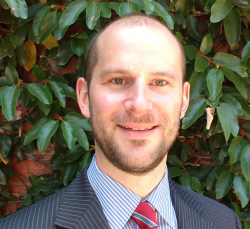 Latest posts by Leith van Onselen
(see all)