The Australian Bureau of Statistics (ABS) has just released the Average Weekly Earnings (AWE) data for the November quarter.A breakdown of the key changes is below: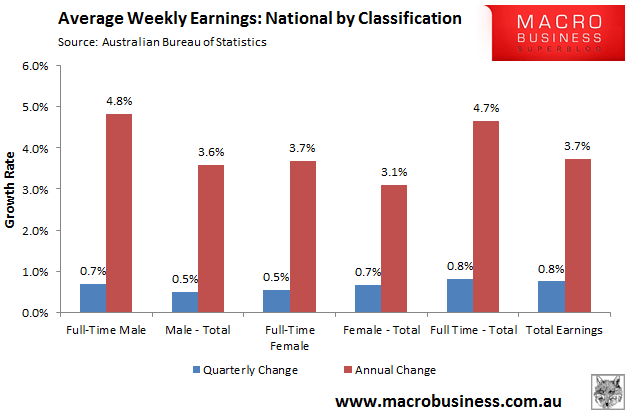 According to the ABS, on a seasonally adjusted basis, national total AWE increased by 0.8% in the November quarter, to be 3.7% higher year-on-year. Full-time total earnings increased by 0.8% over the quarter and by 4.3% over the year.
A time series of annual average wages is shown below. According to the ABS, the average Australian earned $53,700 per annum as at November, with the average full-time worker earning $72,181: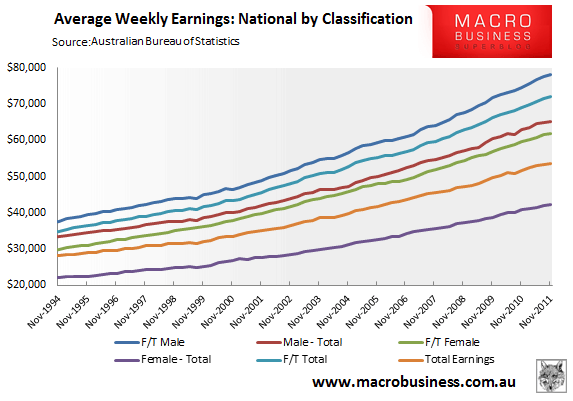 You can see from the above chart that males earn significantly more on average than females. As at November 2011, full-time male earners earned 26% more on average than females full-time workers, whereas total male average earnings were 54% higher.
The disparity between the private and public sectors is also striking, with public sector workers earning on average 22% more than private sector workers, and public sector full-time workers earning 8% more: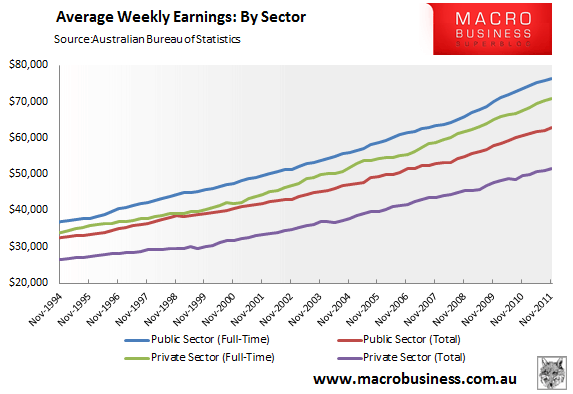 In real (inflation-adjusted) terms, you can see that total average annual earnings have flatlined since May 2010, growing by only $470 (0.9%) over the period. With almost all of that growth (0.8%) occuring in the latest quarter: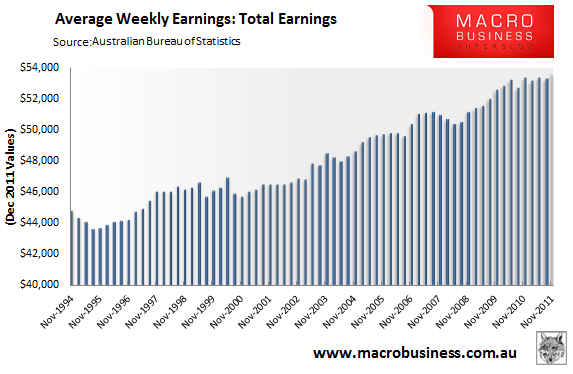 At the state level, wages growth has been mixed, with Northern Territory (+3.5%), Victoria (+2.3%) and South Australia (+2.2%) recording strong growth over the quarter and New South Wales (-0.7%) and ACT (-0.5%) recording negative growth.
Over the year, however, Western Australia (+11.2%) and Northern Territory (+10.6%) were the standout performers, whereas New South Wales (+2.0%) and Queenslands (+2.0%) were lagards:
In dollar terms, workers in the ACT, Western Australia, and Northern Territory get paid the most on average, whereas those in Tasmania, South Australia, and Victoria are paid the least: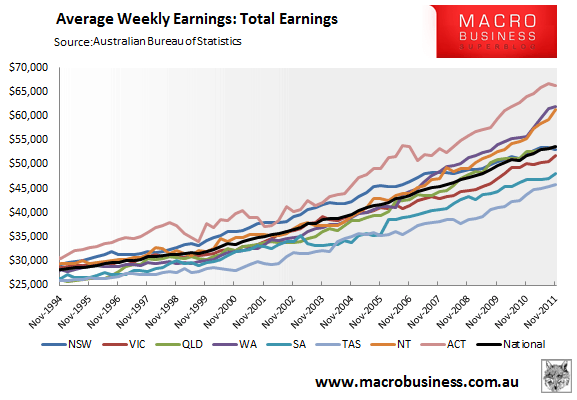 Along with yesterday's release of the labour price index for December, which showed solid wages growth, we see nothing in this release to alter the RBA's mind on monetary policy staying on hold.