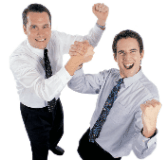 By Leith van Onselen
The Australian Bureau of Statistics (ABS) has just released the labour price index for the December quarter. According to the ABS, in trend terms total wages (excluding bonuses) increased by 0.9% over the quarter, with private sector wages rising by 0.9% and public sector wages increasing by 0.7%.
Over the year, total wages (excluding bonuses) have increased by 3.7% in trend terms, with private sector wages rising by 3.7% and public sector wages growing by 3.2%. The outcome just beat analysts expectations, who had been expecting wages to grow by 3.6% over the year.
A chart plotting the growth rates over time is presented below.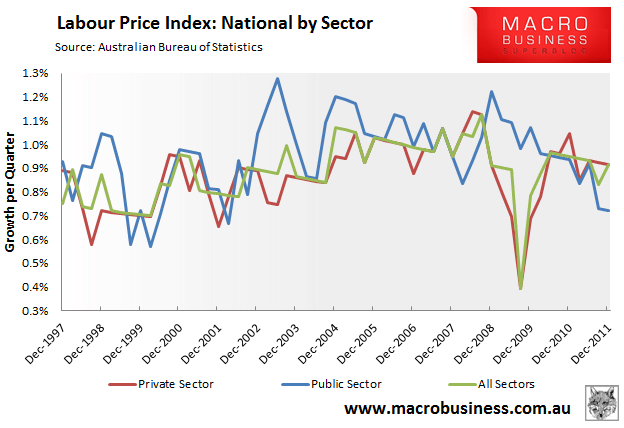 For me, the most interesting aspect of this chart is that public sector wages had until recently grown at a faster rate than private sector wages. As expected, public sector wages growth is also far more stable, experiencing little downwards adjustment during the Global Financial Crisis, although it has started to trend down recently as state governments began trimming their budgets.
At the state level, data is only provided in original (non-seasonally adjusted) terms, which makes it very volatile. Accordingly, the below chart tracks wages growth in the mainland states on a six month moving average basis: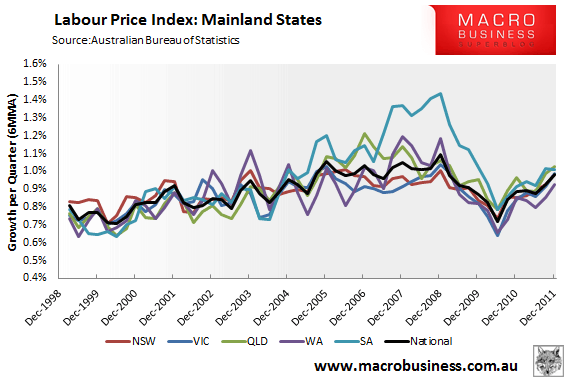 Surprisingly, wages growth in South Australia has typically exceeded the national average, whereas WA has underperformed.
At the industry level, which is again produced on a six-month moving average basis, wages in the mining and construction sectors have grown the fastest over the life of the series, with financial services and wholesale trade growing more strongly recently:
This is a solid release. And is more evidence for the RBA's assessment of the employment market as stronger than it appears. Although you can see that there is a declining trend in wages growth, despite the little bounce in the quarter, it is a mild tapering not suggestive of any significant weakness in the labour market. There is nothing in this release to alter the RBA's mind on monetary policy staying on hold.