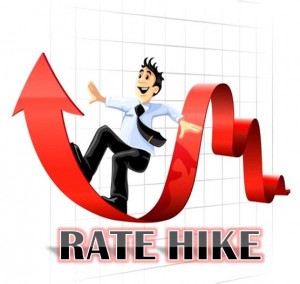 So, rather sensibly, ANZ has pulled the trigger. The 0.06% hike to loans that everyone has, not in the least offset by the .15% cut to the fixed rate loans that nobody has. Of course if borrowers jump in, rates are likely to immediately fall past that very rate! (h/t GB) Undoubtedly the major banks will follow. The hike came at 2.30, a silly choice, given its resonance with the RBA's timing and encouraging media comparison with the old system. To be honest, I think the bank should lose this official rates day business altogether, it's only serving to increase scrutiny. Here's its rationale:
ANZ CEO Australia Philip Chronican said: "This month we faced a serious dilemma in our review, balancing the rising cost of bank funding including deposit customers' interests in receiving highly competitive rates, and the expectation of borrowers that we keep lending rates as low as possible.
I think if you read between the lines you can see what's really going on here. They need to raise rates but don't want to stuff up their assets.
Other than that, as several commenters have noted, the degree of hike is clever, getting borrowers used to the idea of independent moves with a nudge here and a nudge there and leaving a moving target for the Government to exhaust its ammunition on. Frankly the Government is getting what is deserves for not having cojones to call a full blown "Son Of Wallis" inquiry to redefine the political economy of the banks. Treasurer Swan looks like a goose and I would not be at all surprised if we some new scheme emerge from the Government to force more competition on the banks. Falling business lending costs would be most welcome but somehow I suspect any new initiative would be aimed at the same old target: mortgages.
I see a few more immediate implications. The small hike means ANZ is trading off the need to keep raising, or taking from RBA cuts, against the need to introduce this process slowly. I cannot see a chronic drip of rate rises doing anything for confidence. There is also the question of why on earth the RBA did not cut earlier this week. With the dollar charging and the banks raising, did it really think the economy needed a round of tightening?
Finally, get used to obsessing about interest rates.