Iron ore has had a nice bounce since the October rout of last year but there are signs that that has run its course and new weakness is appearing across the charts. For a start, the spot price itself has rolled over and is accelerating downwards: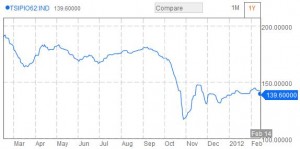 Next, a look at the 12 month futures is more unsettling: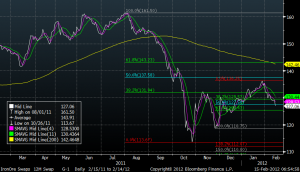 There are a series of lows to retest beginning with $125.43. If that breaks it's on $118.75 and then the ultimate bottom. The 12 moth contract has been a good leading indicator of spot weakness.
To my mind a retest of some of these lows is likely two reasons. The first is the following chart of Chinese port stocks, which shows the seasonal rebuild has run its course: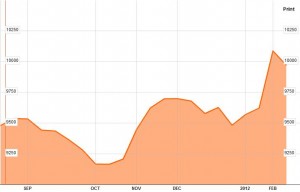 And if we look at a longer term chart, you can see these levels are setting a new record for inventory: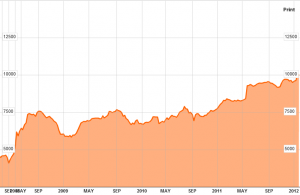 Which does not combine well with the second reason. We've had a series of indicators suggesting that January marked a continued slowing of the Chinese economy notwithstanding the effects of Chinese New Year. The degree of this slowdown remains uncertain but my view is that it is probably worse than consensus thinks at the moment. I don't foresee a hard landing so much as bumpy one with difficulty getting back off the ground. Bursting asset bubbles come with balance sheet recessions and even in China, where the boom in the use of capital per capita will continue, that means a protracted slowing. I expect iron ore to struggle at least until mid year and maybe longer, depending upon the gumption of Chinese policy-makers.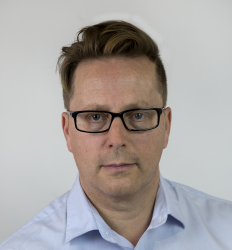 Latest posts by David Llewellyn-Smith
(see all)