Another interesting night in Europe. France sold  EU7.963bn worth of bonds with various maturities. The 30yrs had an average yield of 3.97pc versus 3.94pc in December, the 9yrs had an average yield of 3.29pc against 3.18pc. This bid to cover ratio on all auctions was significant down with the 9yrs only managing 1.64 after attracting 3.05 in December. The equities market didn't like the news too much and sold off a little as covered in The Prince's Market Morning post.
There seems to have been some easing in the interbank markets as the use of the ECB's marginal lending facility dropped overnight, which is positive. However, the news from Italy doesn't quite support the idea that all is now well in the European banking system. Italy's Unicredit has had its shares halted no less than 4 times over the last 2 days as the share price plunges on the back of concerns over the banks ability to raise new capital.
Investor worries over the ability of European banks to raise much-needed equity mounted on Thursday after UniCredit suffered a steep share price fall for the second day, rattling the group's planned €7.5bn rights issue.

UniCredit's share price dropped 17 per cent, compounding a 14 per cent slump on Wednesday, as the bank published details of its deeply discounted share price offering.

Analysts blamed continued investor nervousness about Italy and banks in general. "Frankly, you'd be insane to put any money into this," said one London-based analyst. "That's nothing against UniCredit. It's a country problem."
That nervousness spilled over into Italian Bonds with the 10yr yield once again rising into dangerous territory.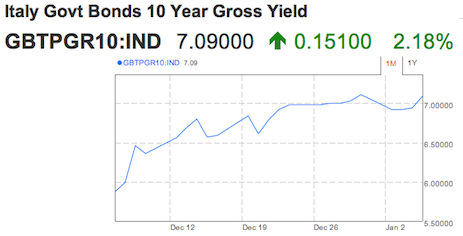 Outside of the financial markets the news for Italy wasn't much better with the latest data on employment coming in weak on top of falling GDP.
Italy's youth unemployment shot up to a record high of 30.1% in November and the jobless rate in the active population rose to 8.6% from 8.5% in October as the country slid towards recession.

According to seasonally adjusted figures released by ISTAT, the unemployment rate for young people aged from 15 to 24 years broke through the 30% barrier for the first time, up from 29.2% in October.

The number of people looking for work across Italy rose to 2.142 million in November, up 0.7% compared to a month earlier (15,000 more people) and 5.6% rise over the year (114.000 more people). The jobless rate of 8.6% in November is the highest since May 2010.

Unemployment in Italy has been increasing since the summer, when the country – which is battling a fierce debt crisis – began sliding into recession with a 0.2% drop in the Gross Domestic Product (GDP) in the third quarter.
Italy needs economic growth to overcome its current issues, this latest data certainly isn't demonstrating that this is occurring.
As I mentioned yesterday I think Spain is also likely to come back under pressure shortly after stepping out of the heat lamps in the later part of 2011. Spain's banking system is under capitalised and has large un-realised exposure to the countries failed property market. The huge and still rising unemployment rate and the recent admission by the government that debt to GDP is at least 2% larger than previously thought adds up to a pretty ugly story.
Last night the Spanish economy minister Luis de Guindos said that Spanish banks need a extra €50 billion ( about 4% of GDP ). However, the minister is quoted as saying:
"In the great majority of cases, they can provide it themselves from their profits … and it could be done not in one year but over several years. We have a property problem in Spain, but it's manageable … This €50bn is about 4 per cent of Spanish GDP. This is not Ireland. It's a completely different order of magnitude."
That may well be the case, but Ireland remained export competitive throughout their entire crisis and had significantly lower unemployment. Spain on the other hand continues to run trade deficits and the high unemployment rate is causing new problems.
Anticipated surplus for pensions system evaporates due to employment destruction.

The Social Security system ended 2011 with a deficit of 668 million euros, or 0.06 percent of Spain's GDP, said Deputy Prime Minister Soraya Sáenz de Santamaría. The result is a far cry from the 0.4-percent surplus that the previous Socialist government had forecast in the state budget, and Santamaría said this is further proof that the economic situation is "more difficult" than had been thought.
I also wonder whether the €50bn figure isn't at the low end of what Spain's banks actually require. Spanish bond yields were also on the rise last night, something I expect to continue.
In other news, the Greek bailout schedule is being pushed back 3 months, the PSI+ appears to be reaching some sort of agreement but the details are still unknown, while a member of the ECB thinks the whole thing should be scrapped.