Overnight markets were mixed and cautious again, with continued good US dataflow on one side of the Atlantic and more debt troubles on the other side, as France successfully sold bonds, Italian bond yields jumped above 7% again.
European markets opened down and continued to slide throughout their sessions, with both major bourses ending the day in the red. The UK FTSE lost just over 0.8% to finish at 5624 points, whilst the German DAX felt only minor falls, down 0.25% to finish at 6095 points. Quickly looking at the other Euro markets, with the French CAC-40 down 1.5%, the Italian FTSE MIB lost nearly 4%, Spanish IBEX 35 down nearly 3% and the Austrian ATX down 2.5% on Hungarian worries over debt.
The Euro (EUR/USD) fell significantly overnight, down over 1.2% and breaking through 1.28 against the USD. It is currently trading at 1.2795, as the USD Index jumped well over the 80 points level, where strong support remains around the 79.6 to 80 point region, now trading at 81.22 as all major and minor currencies fell against the world's reserve currency: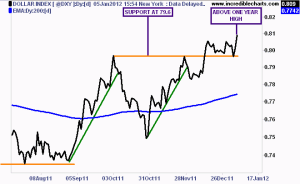 US equity markets all finished up with positive employment and non-manufacturing data boosting stocks. The S&P500 finished up 4 points to 1281, the tech heavy NASDAQ surging almost 1% to 2670 and the Dow Jones was up a paltry 2 points to 12420.
The AUD slipped below 1.03 against the USD currently at 1.0264, falling over 1 cent in 24 hours while it remains just over 80 cents against the Euro, following the generally undollar move.
To commodities, and WTI crude was down over $1.50 to $101.74 USD a barrel, with Brent crude also losing $1 a barrel to $112 USD per barrel.
Gold fell throughout the London session down to almost $1600USD before the NYMEX trade boosted the shiny metal back to resistance at $1620, currently at $1623USD per ounce, wanting desperately to break above: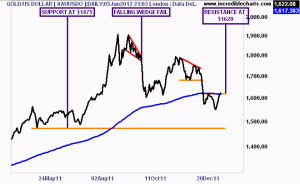 Silver saw some weak bids and is still below $30USD an ounce, alongside the other precious metals that were also flat. Whilst copper fell on weaker Euro industrial orders to $3.38US per lb, the other industrial metals aluminum, zinc and nickel all fell over 1%
The Aussie SPI Futures point to a slightly higher open for the S&P/ASX200 index, currently up approx. 14 points, probably opening around the 4155 points level.
Trading Day will cover the Asian market session and the "ASX8" stocks after the close in the afternoon.
Latest posts by Chris Becker
(see all)