On the heel's of the release of the RBA's paper on the mining boom, and the excellent analysis by The Unconventional Economist, comes a Dow Jones Newswire piece, reposted at The Oz:
Global demand growth for iron ore is set to slow in 2012, bringing down average iron ore prices from last year's record high.

Market expectations are that average spot prices will range between $US150 to $US160 a metric ton for iron ore fines of 62 per cent iron content delivered to Chinese ports, from $US168 a ton in 2011….

The consensus is for a fall of $US10-$US15 a ton on average in 2012, to a range of $US150-$US160 a ton, with high volatility.
A chart of the 12 month Iron Ore swaps shows where the price has been moving since January 2011, broadly in line with other risk or "undollar" assets in direction and magnitude: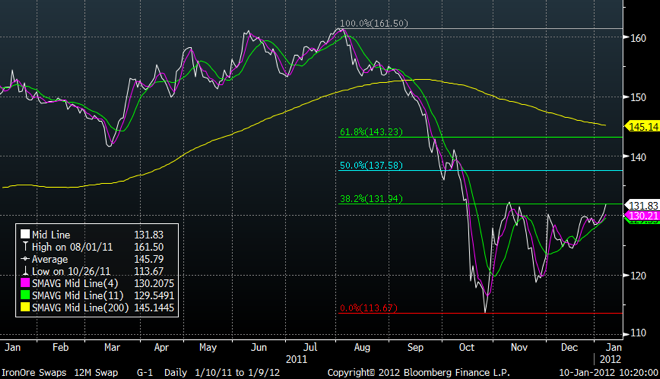 Technically, the price action following a significant correction is a rising wedge or ascending triangle pattern, as prices try to clear the resistance level formed at around $131 a ton. A sustained rally back to the previous high of $160 a ton is more likely to occur if prices rally past $145 a ton, above the long term moving average and thus moving the commodity back to its previous uptrend.
Placing the bulk commodity price in a longer term context, prices are still at nearly record highs, with the main suppliers moving to the more volatile spot price moving away from quarterly contract prices (shown in red below):

The reason for the fall in prices:
The average price this year is likely to fall back to 2008 levels due primarily to a slowdown in steelmaking growth in China, which consumes well over half of global iron ore output.

China's crude steel output grew 8.5 per cent in 2011 to about 680 million metric tons, but growth should slow to 5 per cent this year, according to market estimates. China steel production levels already fell in November and December, leaving 2011's steel output in the Asian giant around 20 million tons lower than the 700-million-ton annual output originally forecast.
It seems doubtful that iron ore can rally back to an average $150-160 per ton just on supply constraints, as the consensus contends. What is really required is additional stimulus by Chinese authorities or their American cousins, thus moving all undollar assets up. The latter is far from assured, whilst the former is more likely.
However, given that iron ore exports to China comprise around 30% or $7 billion per month worth of Australian exports, these falls from higher levels add more weight to the notion that Australia's terms of trade have peaked.
Latest posts by Chris Becker
(see all)