The Housing Industry Association (HIA) Economics Group has released a note on where it sees dwelling prices heading for 2012.
Strangely for an economic review the language appears very defensive and subjective, e.g "slice and dice", "no bloodbath", "bleating", "yacking", and "peddle" whilst the all too familiar words like "softening" and "price moderation" are dragged out to replace the "F" word wherever possible.
Past the terminology, the analysis draws upon the broad consensus rationale for why dwelling prices are "underpinned by strong fundamentals" combined with the "its different here" meme, particularly when "doomsayers" compare the US experience:
Australian mortgages are "full recourse" (as they are in a majority of US states)
Australian banks have maintained very high lending standards (which is why mortgage debt to GDP is higher than the US)
Australia has a housing shortage due to underlying demand (which also existed in California et al)
Lending for existing properties has been trending up (but remains at 30 year lows)
….and so on, and as regular readers of MacroBusiness no doubt know, all of these points have been carefully scrutinised and revealed for what they are, particularly by The Unconventional Economist (who is back fully on deck this Monday)
But a final point about rental yields increasing was puzzling (emphasis added):
Vacancy rates remain low in all the capital cities, with Perth, Canberra, Darwin and Sydney incredibly tight, causing the growth in rents to outstrip general inflation.

Accordingly, rental yields continue to grow and with interest rates on the way down this means that the attractiveness of purchasing a property, either to get out of the rental market, or as an investment, is on the rise.
Whilst vacancy rates are indeed low, the note failed to mentioned they are rising:

Skipping to the last sentence, which makes some sense and states that rental yields are indeed improving, and at a gross level are just below what a saver can get on a term deposit. Although borrowing costs remain well above this figure, so a reliance on sustained capital growth is a given, unless you have a substantial deposit (or equity mate):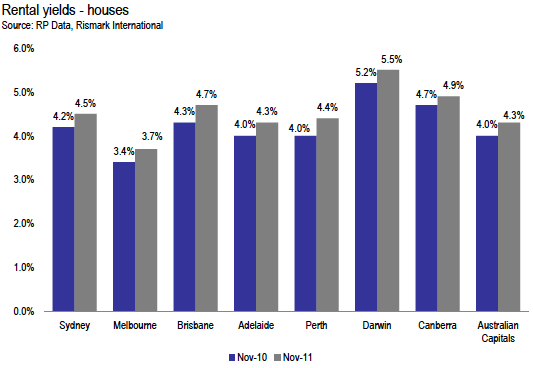 Yet borrowing costs have fallen in line with dwelling price falls: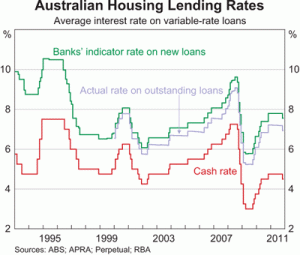 And that while unemployment (as measured by the ABS) is at a "low" 5%, is ticking up: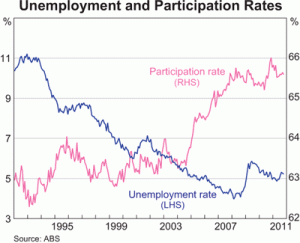 Its a sound thesis; so to hedge the call, HIA contends that both fiscal and monetary policy will come to the rescue of the property market if the "sound fundamentals" turn sour:
Indeed, the RBA understands that we need to tap into this policy capacity now – and hopefully the Federal Government will soon be on board also.
Unfortunately, this consensus view, which provides the hedge to any calls for price stability or indeed growth, is grounded more in hope than reality. The RBA can indeed cut rates and continue the easing cycle, and the median forecast is for a further 50 basis points or half a percent cut throughout 2012, taking the real cash rate perilously low to zero: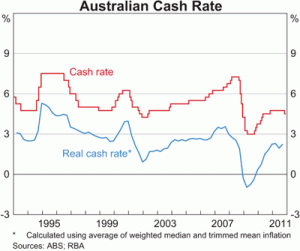 But are the banks, under increasing pressure of higher funding costs and a desperate need to maintain their profitability (and their dividends) actually able to pass these rate cuts on? Tomorrow's independent announcement by ANZ of their own interest rate direction will likely be a harbinger for things to come.
Further as I outlined late last year, the Federal Government is required to maintain its path to a surplus, as soon as possible, which effectively precludes ANY stimulus repeat of early 2009 (e.g FHB Boost):
Either the government returns to surplus and maintains the fiscal austerity, hence keeping the net level of public debt low, or the rating's agencies will reassess the "stable" outlook with all the implications that has for our banking sector and of course, the housing market, unemployment and the broader economy.
Latest posts by Chris Becker
(see all)