With the end of the calendar year approaching and with the market still oscillating around its lows, super funds are scrambling to put a good light on their meagre returns. The news today for non-self managed funds was foreboding:
Research firm Chant West estimates that the average fund will have shrunk in value by around 2 per cent by the end of calendar 2011.

By contrast in 2008, funds lost an average of 21.5 per cent, according to Chant West data.

Chant West investment research manager Mano Mohankumar said that even after a 15.1 per cent rise in 2009 and 4.7 per cent return in 2010, many funds "still have some ground to make up".
The above data relates to a study of so-called "balanced" super funds, which comprise approx. 60% in equities, and are the default option for the majority of Australian superannuation members.
The estimates also conclude that retail funds lost 2.9% in 2011, as opposed to their industry (i.e employer/union based) brethren, which only lost 0.6% for the calender year.
This comes on the back of the September data released by competitor SuperRatings, which I covered late last month, now available here for the October returns, with the median balanced fund showing a 2.2% loss for the financial year to October.
This is inevitable, over the short term and long term, when you allocate too much of your savings to a volatile secondary asset market. As I've shown before, the average super fund has far too large an allocation to "growth" assets: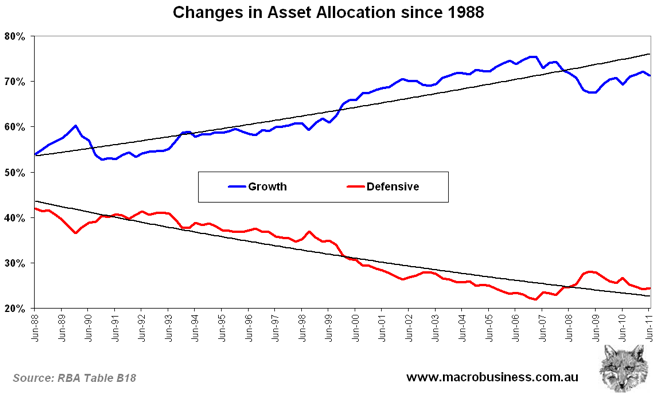 This is best highlighted by an MB commenter who said:
Advisors recommending buy and hold are happy to take fees while your savings evaporate. The Australian superannuation industry is a paradise for parasites and needs major overhaul.
Update: I indeed had the inspiration for my other article on super, highlighting the possible, however improbable risk of confiscation of super by government, after reading the Barnaby is Right blog from earlier this year. This has obviously stuck with me and I did use that post title yesterday as pointed out at his blog today! Credit where credit is due, as always, if a little late.
Latest posts by Chris Becker
(see all)