According to the AFR this morning:
Falling industrial output in Australia's key mineral export markets of China and Japan is putting pressure on energy coal prices.

China is reportedly pushing back on shipments of thermal coal from Australia and Indonesia as inventories in Qinhuangdao and Guangzhou, as well as at coastal power stations, continue to swell.

Shanghai-based Macquarie commodities analyst Graeme Train said the upturn in inventories was driven by lower economic activity, which has reduced demand for power. Inventories have also been growing in line with booming supply from South Africa and Indonesia.
Here is the latest chart for thermal coal: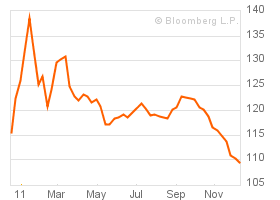 Also from the AFR story:
…China increased its steel exports last month by 9.9 per cent to 4.2 million tonnes compared with 3.82 million tonnes in October, taking advantage of the lack of interest in high-priced Japanese steel and capturing market share in Korea.

China's iron ore imports for November were up sharply after October figures were affected by the week-long national holiday. It imported 64.2 million tonnes last month, up 28.6 per cent, on cheaper prices. But China's crude steel output fell 8.8 per cent to 49.9 million tonnes in November.

"The industry is operating below cash break-even and [there is] low interest from traders to stockpile iron ore, iron ore imports will go down in December in our view," Royal Bank of Scotland analyst Jeannette Sim said.
Here is the latest chart for metallurgic coal (which is delayed a week or so):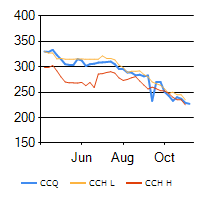 And finally, here are the ore charts. First, China port inventory, which looks eminently well supplied: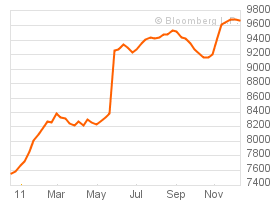 The ore price: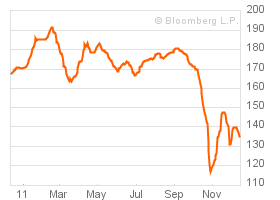 And finally, 12 month ore futures which have led declines: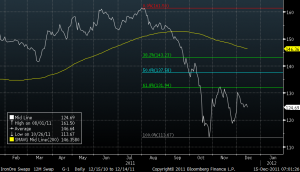 That's not a pretty chart. The fibonacci's tell us that we had a market unable to get back through the 38.2% retracement level and confirm a clear down trend. It's back below 120 initially and if goes through the $113 low, it'll be past $100 before you pass Go. My guess is that's exactly where we're going.
These three commodities make up half of Australia's terms of trade. The first few months of next year are not going to be kind to the TOT. Not kind at all.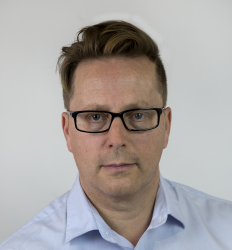 Latest posts by David Llewellyn-Smith
(see all)