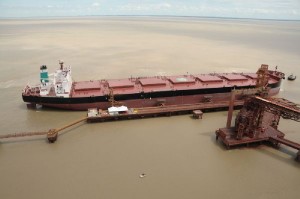 Reuters reports this facinating tale this morning from Brazil:
The world's largest iron ore carrier is disabled and could sink at a key Brazilian port from where Vale, the world's No.2 mining company, loads about 10 per cent of the global iron-ore trade, shipping agents and media said on Monday.

The crippled Vale Beijing is the latest blow to Vale's multibillion-dollar plan to have a fleet of 35 of the world's biggest iron ore carriers to tap demand in the world's fastest growing emerging market, China.

The 361m long vessel is loaded with enough high-grade iron ore to make the steel for nearly 3½ Golden Gate Bridges. Were it to settle to the bottom at the Ponta da Madeira Port near Sao Luis, Brazil, the carrier could disrupt about a third of Vale's 300m tonnes in annual shipments of iron ore.

The Rotterdam-bound Very Large Ore Carrier (VLOC) ruptured is hull and was having problems with its ballast tanks, shipping agents told Reuters.

…At an estimated cost of $US150 million to build, the brand new Vale Beijing was delivered in September to its operator South Korea's STX Pan Ocean. Engineers from the company are expected to arrive at the port on Tuesday.

…Were the Vale Beijing to sink at dock, or face further problems, it would threaten to delay loading at the port responsible for nearly 10 per cent of the world's 1 billion tonnes of annual sea-borne iron-ore shipments, an essential ingredient for steel production in China and Europe.

…The problem is the second this year among a new class of giant "dry-bulk carriers" being built at Vale's behest to help it better compete with Australian rival's BHP Billiton and Rio Tinto, whose main mines are thousands of kilometres closer than Vale's to China, the main steelmaker and iron-ore market.

The first such 400,000 dead weight tonne "Valemax" or "Chinamax" ship delivered earlier this year, the Vale China, had to turn around in the Indian Ocean on its maiden voyage after Chinese government failed to provide permission for the giant ship to dock. It went to Italy instead.

"It's unfortunate timing for Vale," a ship industry source said.

Chinese authorities could use the incident to argue that the Valemax vessels pose safety and environmental risks and thus should be excluded from China's ports, the source said.

The Vale Beijing is the world's largest ore carrier, according to STX Pan Ocean. But it is only slightly bigger than its sister ships Vale Brasil, Vale China, Vale Italia and Vale Rio de Janeiro, which are the first of nearly 35 similar class vessels Vale hopes to put in service in the coming years with third party operators.
Fascinating stuff. I'm not sure why Chinese authorities would seek to deter these vessels. From the standpoint of import competition that would seem pretty self-defeating. I won;t profess to be an expert on shipping but there seem to be some teething problems with the new giants. Perhaps security of supply might motivate the Chinese.
Anyways, as we know from the oil market, supply disruptions do unaffected players no harm whatsoever. I'll keep an eye on this.