The SMH report this morning that Rio is striding towards ever greater expansions of its iron ore output:
Rio Tinto has revealed plans to expand its flagship iron ore operations in Western Australia beyond previous expectations, but the news has been dampened by confirmation that capital costs for the project will also rise higher than previous guidance.

Rio has long planned to lift its iron ore production in the Pilbara from 225 million tonnes per year to 333 million tonnes, but Rio iron ore boss Sam Walsh said this morning that expansion target would be lifted further to 353 million tonnes by 2015.
That seems as good an excuse as any to return to the iron ore market for a quick update. Since we last checked in, iron ore has bounced handsomely: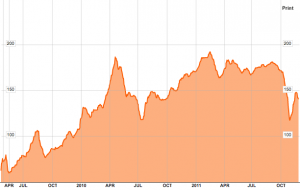 From its recent low of $117, we've jumped to $147 on renewed Chinese buying. Here is how Chinese port inventories of iron ore look now: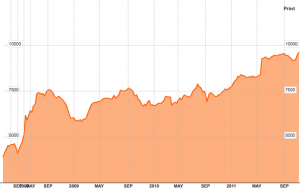 That teensy dip in the top right of the chart is the recent inventory rundown. I note as well that last week stocks surged again to an all time high.
That's not terribly reassuring. We really haven't yet seen a big disruption in the Chinese ore cycle but prices have been smashed (then rebounded). It's little wonder then that futures have decisively rolled over. Here is the Singapore 12 month swap: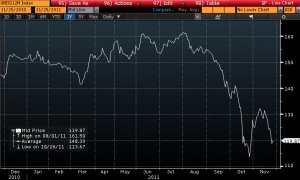 We might read this chart  a number of ways. We could be setting up a double bottom but if so we'll need to rocket through $130 very quickly. More likely, it seems to me, we're about the plumb new lows, which throws up some very interesting questions. $120 is the now accepted market floor for the iron ore price because at that level Chinese production begins to become unprofitable and will diminish.
But there are a couple of circumstantial reasons to think we are about to test that thesis. Firstly, Brazil's export totals were hammered in October. From Steel Orbis:
According to the statistics provided by Brazil's National Union of the Industry of Extraction of Iron and Base Metals (Sinferbase), in October this year Brazil's iron ore exports amounted to 20.5 million metric tons, falling 16.7 percent compared to September this year.

The share of the world's largest iron ore exporter Vale in Brazil's total iron ore exports in October equalled 92.5 percent, amounting to 19 million metric tons.

Meanwhile, in the first 10 months of 2011 Brazilian iron ore exports fell slightly by 0.2 percent year on year to 228.5 million metric tons. Vale's share in Brazil's total iron ore exports in the January-October period of this year was 91.5 percent, amounting to 209 million metric tons.
By contrast, Australian Port Hedland shipments fell under 1%:
This is confirmation that Brazil's clients, no doubt in Europe, have really hit the brakes (as was reported a month ago). It shows that there's going to be plenty more iron ore on the market for the foreseeable future. More for Asia that is. Which brings us to our second reason. Today, China reaffirmed its intention to deflate property. From Bloomberg:
Chinese Vice Premier Li Keqiang said measures introduced to control the nation's property market are at a "critical stage" and that the government should maintain the curbs, the official Xinhua News Agency reported.

Li also called for increased efforts to construct and "fairly distribute" affordable housing to low-income families, Xinhua reported today. The vice premier made the remarks while visiting the city of Langfang inHebei province on Nov. 25, where he checked on the implementation of the government's affordable housing policies, Xinhua reported.

The government intensified property measures this year with limits on mortgages and restrictions on home purchases in about 40 cities, as well as aiming to build 10 million affordable housing units to boost supply. Some brokerages including Barclays Capital Research and asset managers such as CBRE Global Investors had earlier forecast that falling home prices in cities including Beijing and Shanghai may prompt the government to roll back some of its tightening measures.

"We expect the government to continue its current purchase and credit restrictions instead of easing them soon, which should constrain property market activity in coming months," UBS AG analysts Tao Wang and Harrison Hu said in a report dated Nov. 25, predicting a 10 percent decline in housing starts for the next 12 months. "The most important factor underlying this outlook is policy."

UBS expects property prices to drop by 10 percent to 15 percent in first-tier cities next year, and by 5 percent to 10 percent in other cities, they wrote.
One wonders how long it will be before iron ore expansion plans slow.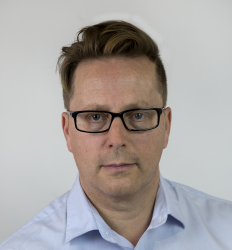 Latest posts by David Llewellyn-Smith
(see all)