So, with a temporary floor under the ore price, it's time to ask how big is the bounce likely to be? We have had a solid rebound so far with spot up another 1.7% last night to $125, 12 month swaps are at $129.50 unchanged and Shanghai rebar is also flat. According to Reuters, traders are getting bullish:
Iron ore prices are likely to stretch gains this week as more mills in top consumer China return to the market to replenish inventories, but a wobbly outlook for steel demand may cap the upside.

Iron ore, which fell more than 30 percent in October, began stabilising last week, gaining more than 8 percent, as Chinese demand picked up.

"There's more buying interest from the mills, but some traders and miners are also holding off for better prices," said an iron ore trader in Shanghai, adding that some Indian miners had canceled tenders last week at the last minute, hoping prices would move higher this week.

…"The price rise will not be so fast," he said.

"Sentiment is cautiously optimistic. We still need to pay more attention to steel demand in China which has not shown any significant change."

…Macquarie expects iron ore prices to rebound in coming weeks after stability returned to the market last week.

"We would reiterate our call that iron ore looks oversold at current levels," Macquarie said in a note.

"After (last) week's stabilisation, we believe the iron ore price could recover a further $20/tonne rapidly as the balance of power shifts back to the sellers amid low inventory conditions and a stabilised steel market."
Well, let's take a look. Here the latest China port inventory chart: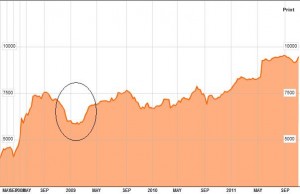 I've marked the last really big inventory cycle in late 2008. As you can see, today's draw down hardly even registers. So, either this cycle will be small and brief, or it has hardly begun. To my mind the latter is more likely at this stage and I have three reasons.
The first is the Chinese ongoing commitment to reducing property prices, reiterated again last night by Premier Wen Jaibao. From the WSJ:
China's government must resolutely carry out its property-tightening measures with the aim of returning prices to "reasonable levels," Premier Wen Jiabao said in a speech broadcast Monday.

Mr. Wen's remarks, delivered in Russia Sunday and shown the next day on Hong Kong-based Phoenix TV, are a reminder that Beijing isn't letting fears of hurting economic growth cause it to loosen its grip on the sector. A southern Chinese city last week implemented what appears to be the country's most extreme property-tightening measure.

Lowering property prices is the government's firm policy, Mr. Wen told an audience of Chinese diplomats and businesspeople during his visit to Russia.

"I will especially stress that there will not be the slightest wavering in China's property-tightening measures—our target is for prices to return to reasonable levels," Mr. Wen said. "The property-tightening measures have been ongoing for two years, and some major policies have already been rolled out, especially this year's construction of 10 million public housing units, which will temper pressure on prices, and slow demand (for private housing)."

…"Housing prices are still in a deadlock, though in the past month we've started to see some shakeup in prices," Mr. Wen said.
Obviously the supply side measures are a boon for iron ore markets but so long as tight monetary conditions prevail I expect the ore market to struggle against a larger tide in the private market.
My second reason is the following chart from the Port Hedland Port Authority and its monthly shipping tonnages of iron ore (assembled in the wee small hours by yours truly):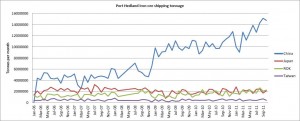 The chart includes October 2011 figures which, as you can see, hardly budged from spectacular highs.  A few things to note about this chart. Japan and Taiwan have haven't grown their ore demand since 2006. The ROK is growing steadily. China is…out of control. Whoever said that the commodities boom is based largely on price not volume is obviously not talking about iron ore. Finally, note the counter-cyclical effect of China in 2008. As our other trading partners halved their imports, Chinese demand almost tripled. There is some reassurance in that fact. Nonetheless, I expect demand in the other three North Asian customers to diminish and it is surely inconceivable that China can continue to buy ore at the rate of the last four months amid a slowdown in both its export and fixed asset investment economy.
Ironically, the chart suggests that the best case for iron ore might be that China's combined slowdown turns unruly, then the monetary spigot will turn fully open.
For now, however, India's Business Standard likewise sees ongoing insipid demand for steel:
To go by what the vice chairman of China Iron & Steel Association, Zhang Changfu, has said on the subject, the situation is unlikely to get better too soon. He is expecting ore prices to remain weak, with "no demand recovery in sight. After China's daily steel output remained 1.9 million tonnes for close to nine months, it fell to 1.79 million tonnes in mid-October, with mills finding machine overhaul a better option than adding to steel supply glut." China apart, Europe, where ArcelorMittal and others have either switched off blast furnaces or postponed commissioning of newly relined ones in view of falling demand for steel, is also held responsible for the debacle in iron ore prices. Now, the ore market will also take its cue from Moody's paring its outlook for the European steel industry to negative. Moody's says steel demand in the 27-nation European Union may contract by up to four per cent in the next 12 months, as the region encounters "economic strain and weak construction and auto markets".
That brings me to my third reason for remaining bearish: that Europe has only begun to slow and will get much worse before it gets better.
So,  if we combine the three observations, we find that Chinese ore demand has hardly fallen at all, authorities remain determined to slow fixed-asset investment and Europe is set to worsen. Yet the ore price has already collapsed. I conclude, therefore, that if a genuine slowing in Chinese demand filters through, which seems likely, we're going lower.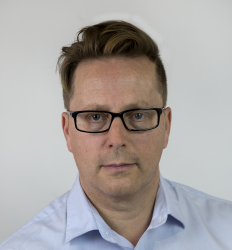 Latest posts by David Llewellyn-Smith
(see all)