Today's chart is inspired by a conversation with the The Bullion Baron's whose blog has been successful in forecasting the price of gold – but in AUD instead of the oft-quoted price in USD.
The dynamics between the USD, the AUD and gold are interesting, to say the least. We have seen how risk assets inversely move to the USD price (represented best by the US Dollar Index, with my latest update here).
But as The Bullion Baron points out: (emphasis added)
However, since 2008 Gold has shown mixed price action during periods of heightened systematic risk and tension in the credit markets, at times it has plunged like a stone, other times it has risen with the USD. While a repeat of 2008 where basically all assets (including the precious metals) are smashed can't be ruled out, it also can't be counted on that Gold will react in the same way.

I would suggest even if we see Gold correct (priced in USD) it's likely only to fall to $1600 (as suggested by The Prince on MB) and in the event of systematic risk and RBA rate cuts we could see the AUD fall to 80c against the USD or maybe even lower.

US$1600 Gold and 80c AUD gives us a local Gold price of $2000.


There is of course the possibility that Gold acts more like a safe haven during the next crisis and rises at the same time as the AUD falls, the last few months show that either could happen during a period of volatility (Gold could rise when AUD falls or they could both fall together)..

If we saw Gold rise back to $1800-1900 in USD and the AUD returned to 80c then we could be faced with an AUD Gold price of $2250 – $2375.
The Bullion Baron ends his blog with a very interesting chart, which I have reframed with an interception point at the start of 2008, plotting not only the US Dollar Index (DXY – green) and gold (AUD – black), but the AUD (blue) itself: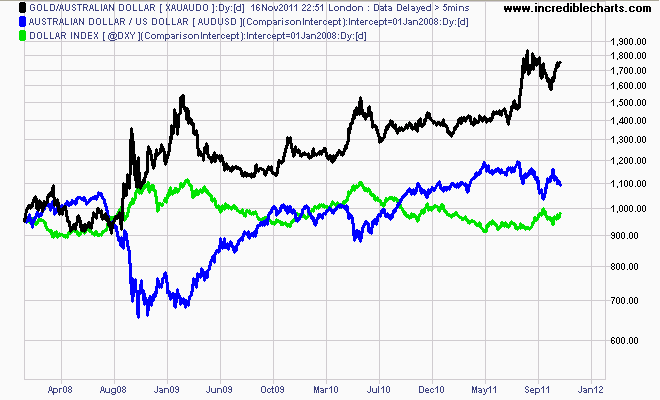 Perhaps Australian investors should look more closely at using gold in AUD as a hedge instead of the USD (both of which can be purchased as ETF's just like a share), regardless of the capital upside potential of gold itself, considering that the trajectory of the AUD during crises has not been favourable.
Latest posts by Chris Becker
(see all)