As I posted last night, the Treasurer, Wayne Swan, released a rather dour communique to Parliament indicating that Australia was ready to take on GFC 2.0. The timing of the missive seemed fairly random, though it did obviously seek to bring pressure to bear upon Europe prior to the G20, such as it is.
I also speculated last night that it appeared Treasury was getting a little spooked and was preparing the ground for a shift in expectations about the Budget reaching surplus next year, as currently projected.
If it seems a little odd that Canberra is getting worried just as global markets rally on the notion that we're passed the worst (notion being the operative word), there is one glaring reason why anxiety might be growing in Canberra: the price action in the iron markets. Increasingly, the miracle commodity is breaking down in both swaps and the spot market and, with two rounds of quarterly contracts yet to be negotiated for this financial year, there is a growing possibility that iron ore is about to blow a hole in the Terms of Trade and the Budget. And that does not even account for the greater exposure we now have to very short term contracts and the spot market.
Here's yeasterday's forward swaps contract: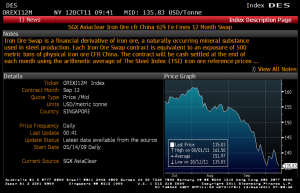 We look dangerously like we're about to plumb new lows. On the longer term chart, the action is worse: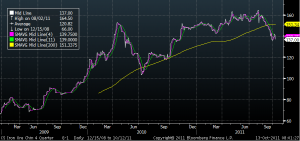 That looks to me like a double top and obviously the down movement has waltzed through the 200 day moving average as well. Now to the spot market itself: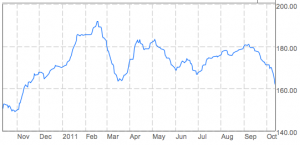 Yesterday, the market took out the Feb/Mar lows that resulted from the Japanese tsunami sell off. The growing rumblings around China's real estate slowdown are no doubt to blame.
It is not easy to estimate the impact on the Budget of big moves in iron ore. But the following charts from BHP gives you some idea how important it is to their bottom line. First, iron ore makes up close 50% of profits: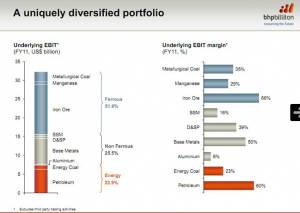 Which also shows up as VERY significant in terms of the vulnerability of profits to commodity price variance: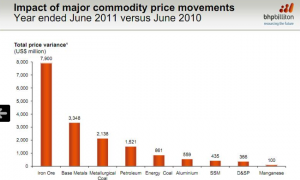 And remember, it's much higher for Rio.
Finally, here's a chart that hints at how significant iron ore is to our Terms of Trade, the latest month's record exports: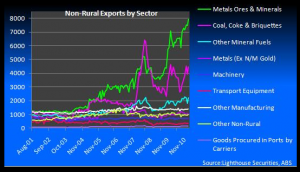 As I've said before, iron ore has made a goose of me several times and you never know.  But the signs are not good today. Markets seem to be anticipating bigger problems for China than is currently obvious. Such is life with a narrow dependence.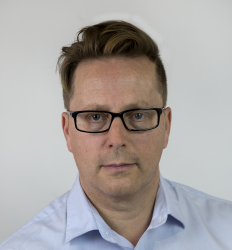 Latest posts by Houses and Holes
(see all)