The S&P/ASX 200 Index closed down 68 points or 1.66% today to 4144 points following heavy falls on commodity markets and poor leads on overnight markets. In after hours trading, the index is steady, with Euro and US markets pointing to small losses.
Asian markets experienced similar moves, with Japan's Nikkei 225 down 1% at 8679 points, whilst the Hang Seng took back 1.9% to 17949.
In other risk assets, the AUD is currently trading at 101.68 cents USD whilst WTI crude dropped nearly 1 percent to $85.39 USD a barrel.
Gold fell 2% during the Asian session, currently at $1614 USD an ounce or $1590 AUD an ounce.
Looking at the daily chart in gold (USD), the ascending triangle with resistance at $16.80 has failed, with the shiny metal falling to the crucial $1600 USD an ounce support level.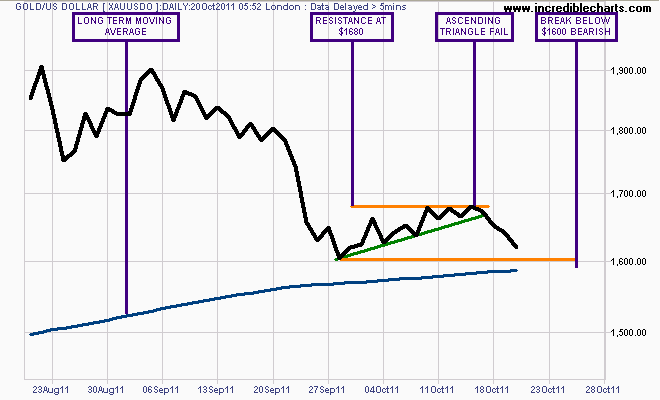 On the weekly chart, a close below this level also corresponds with a break in the 2.5 year trend from the March 2009 low (and the long term moving average). A weekly close below $1600 is very bearish, however this could be a false break going into the vital Euro conference this weekend.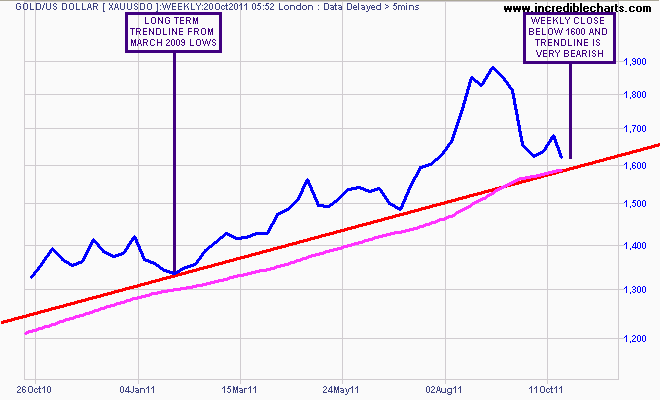 Movers and Shakers
A red board on the ASX, with all sectors but materials down for the day, IT the worst reversing yesterdays gains, whilst the stalwarts – financials, energy and materials – the Houses and Holes, the ASX8 – all lost around 2%
All of the banks were sold off slightly, with ANZ losing 0.8%, Commonwealth (CBA) 0.6%, National Australia Bank (NAB) down 1.3% and Westpac (WBC) the worst at 1.46%. Macquarie (MQG) lost 3.36% for the day closing right on $23 per share.
Cochlear (COH) slipped 1.7% whilst its "twin" lost 1.5%, even though the AUD took a drubbing.
BHP Billiton (BHP) took a big hit, closing down 2.5% whilst Rio Tinto (RIO) lost just over 3%, Newcrest Mining (NCM) was slugged over 6% due to the gold price fall and bad production report, Fortescue (FMG) down nearly 5% and Woodside Petroleum (WPL) losing just over 4%. Another bad day for the "Holey" (sic) mining complex.
The Charts
Well it seems no one wants to hold risk assets going into the EU Meeting/Conference "talkfest" this weekend. Yesterday I showed the somewhat unreliable (in the short term) megaphone pattern, which has now failed (or succeeded if you are short), as the market continues to resist the downward trendline and its long term moving average. These are all the hallmarks of a failed bear market rally.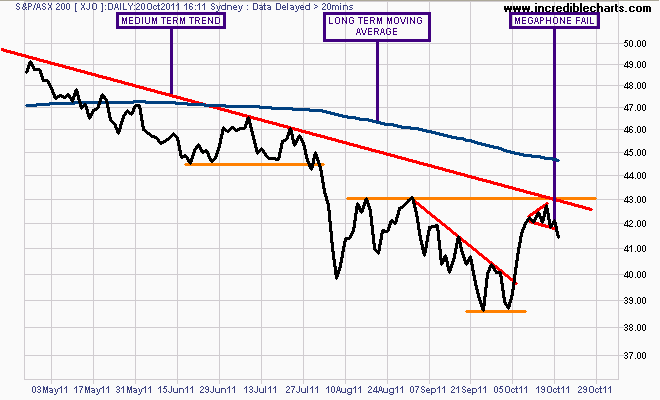 For this rally to have any continued strength, it needs to surpass the 4300 level, preferably on a weekly basis, and then close above the long term moving average (probably with a retest of the old resistance as it becomes support, thus completing the pattern).
If risk is turned off on overseas markets (i.e Euro and US) after this weekend, the medium term target is support at 3850 points.
Watch my "Chart of the Day" posts for continued analysis of US, Euro and Asian markets.
Latest posts by Chris Becker (see all)