The S&P/ASX 200 Index closed down 3 points to 4141 points in a strange session coming into the EU Meeting this weekend. In after hours trading, the index is up 10 points, with Euro and US markets pointing to slightly higher opens.
Before I go on, something happened after "lunch" about 2pm today on the ASX200. Not a large move – around 30 points or less than 1%, but telling. I've watched the ASX200 intraday for over 5 years now and this is the hallmark of institutions closing their book for the weekend, not quite a "risk off" event, but something Nassim Taleb would call "accepting caution as a strategy".

Asian markets were equally skittish, with Japan's Nikkei 225 down 0.1% at 8668 points, whilst the Hang Seng was steady at 17978.
In other risk assets, the AUD is currently trading at 102.42 cents USD whilst WTI crude rose nearly 1 percent to $86.40 USD a barrel.
Gold rose nearly 1% during the Asian session, currently at $1624 USD an ounce or $1587 AUD an ounce.
Movers and Shakers
A mixed, but mainly red board on the ASX, with mixed sector performance, property and healthcare the biggest winners whilst consumer stocks (mainly Wesfarmers (WES) and Woolworths (WOW)) and telecom the biggest losers.
The banks were mixed, with ANZ up 0.43%, Commonwealth (CBA) down 0.4%, with National Australia Bank (NAB) and Westpac (WBC) steady. Macquarie (MQG) lost 2%
Cochlear (COH) jumped 4.5% whilst its "twin" CSL lost 0.23%
BHP Billiton (BHP) was bid up slightly 0.6% whilst Rio Tinto (RIO) lost 0.4%, Newcrest Mining (NCM) also losing 0.4%, Fortescue (FMG) down 1.4% and Woodside Petroleum (WPL) losing 0.6%.
The Charts
As I said yesterday, it seems no one wants to hold risk assets going into the EU Meeting/Conference "talkfest" this weekend. Yesterday's slump was improved upon on the open but as I said, a 1% intraday drop has the index closing the week heading for support at 4100 points.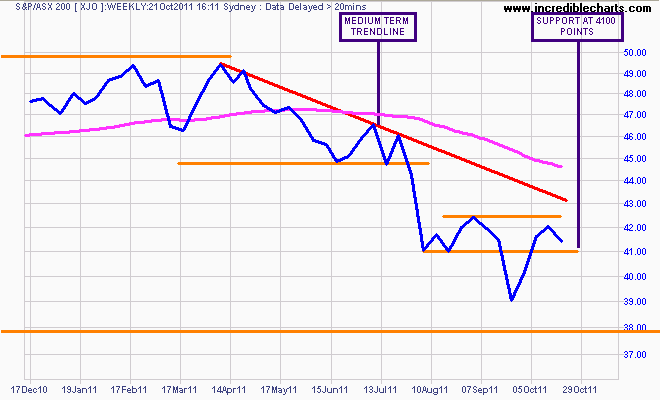 The daily chart below shows a candle called a "cross" with a slightly higher tail (intraday high) showing broad selling, pushing the index down towards support at 4100 points.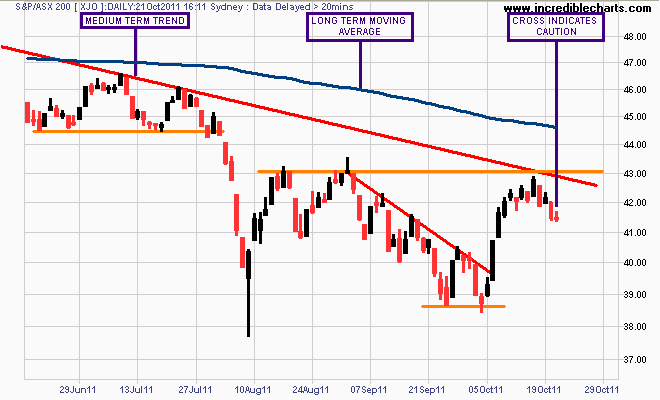 For this rally to have any continued strength, it needs to surpass the 4300 level, preferably on a weekly basis, and then close above the long term moving average (probably with a retest of the old resistance as it becomes support, thus completing the pattern).
If risk is turned off on overseas markets (i.e Euro and US) after this weekend, the short term target is close by at 4100 points, with a medium term target at support at 3850 points.
Watch my "Chart of the Day" posts for continued analysis of US, Euro and Asian markets.
Latest posts by Chris Becker (see all)