The S&P/ASX 200 Index closed down 88.5 points or 2.11% today to 4186 points following weak leads from overnight US and Euro markets. In after hours trading, the index is down slightly, with Euro and US markets also pointing to lower opens.
Asian markets experienced similar moves, with Japan's Nikkei 225 down 1.4% at 8749 points, whilst the Hang Seng lost 3.5% to 18204, probably on the back of "bad" Chinese GDP growth numbers (still 9.1% annualised, if you believe the data).
In other risk assets, the AUD is currently trading at 102 cents USD falling after the release of the Chinese GDP data, whilst WTI crude slipped to $86.26 USD a barrel.
Gold was relatively steady during the Asian session, currently at $1671 USD an ounce or $1636 AUD an ounce.
Movers and Shakers
A sea of red across the board on the ASX, with only the telco sector up due to Telstra's buyback plan and dividend reassurance, the biggest losers energy, IT and materials.
All of the banks were sold off, with ANZ down 1.4%, Commonwealth (CBA) 1.8%, NAB down over 2% and WBC off 1.8%. Macquarie (MQG) was sold off and took back yesterday's gains losing 2.6% for the day.
Cochlear (COH) slipped after comments at its AGM that the recent recall of its implants will cost the company some $20-30 million or nearly 20% of annual profit. It's still over 15% off its oversold low. CSL almost went below $30 a share, but closed the day down only 1% to $30.21
BHP Billiton (BHP) was slugged probably due to iron ore price drops, down 3.3% whilst Rio Tinto (RIO) was hit over 5%, Newcrest Mining (NCM) lost only 0.7%, Fortescue (FMG) down nearly 10% and Woodside Petroleum (WPL) down just over 1%.
The Charts
One day does not mark the end of a typical bear market rally, but a 2% loss is higher than normal for a "dip" and the market has – for now – rejected resistance at 4300 points (the intraday high yesterday was 4287).
But first I want to put some context to this rally. Whilst this weekly chart is "busy" (compared to some trader's screens its a crayon drawing) it is illustrative: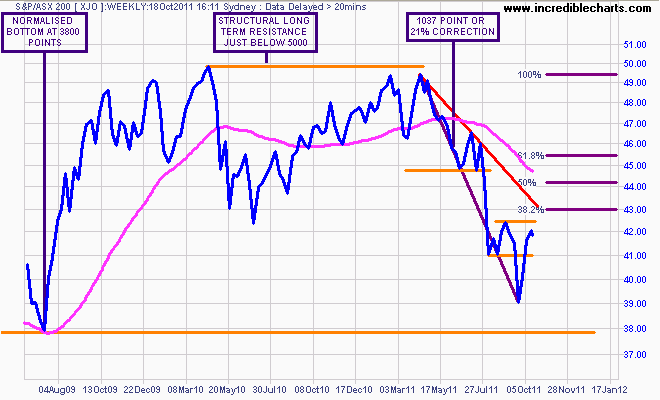 The major support line at 3800 points is what I call the "normalised" bottom for the ASX200. It corresponds with the turning point of the long term moving average and the bottom of the structure after the market bounced off the very oversold level at 3100 points.
The major resistance line is at 5000 points. This is psychologically important (and interestingly enough correlates to a value of $50 per share for BHP). The market has corrected some 21% or 1037 points after failing to breach that high for over 18 months.
I don't normally use Fibonacci retracements, but the lower 31.8% retracement intersects with the 4300 point level which is also the medium resistance level and the edge of the downtrend line (marked in red) from the top in early April.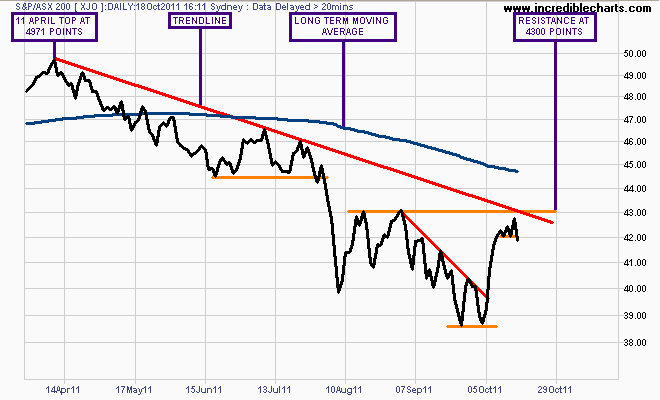 Looking more closely at the daily chart, this intersection is apparent, and is shadowed ominously by the long term moving average (which like money is ephemeral and not real – "there is no spoon" when it comes to moving averages, they are just a guide).
A continued rally needs to surpass the 4300 level, preferably on a weekly basis, and then closing above the long term moving average. Until then, this is just a snapback short covering rally.
Watch my "Chart of the Day" posts for continued analysis of US, Euro and Asian markets.