Who will ever forget Ben Bernanke's "green shoots" in March 2009. It was Bernanke's finest hour as a forecaster and was taken up and boosted in markets by discussion of the "second derivative" economic indicators that showed that the pace of economic slowing was slowing. The rest is history with the moment marking the start of one of the greatest bear market rallies in history.
Can we draw a lesson from that episode today? Yes and no.
The current bear market rally has undoubtedly got legs for now. Friday's mass downgrades of European banks and countries was water off the duck's back today. Instead undollar markets surged again, especially equities, less so commodities, presumably on China worries, and the $US got whacked for 1.5%.
As I discussed last week, the US economy has held up better than I expected after the policy debacles of August. But these are not green shoots. They are a continuation of a sluggish trend best typified by the weekend's employment data, which showed ongoing job creation in the 75k per month range (averaged over a couple of months), not enough to prevent unemployment rising further but not disastrous either.
The better data holds out the hope that the US can muddle its way through the fiscal cuts that are scheduled (if not yet in detail) for next year. I hold no hope for the Obama jobs plan. Oil is on the charge again so I still see little scope for the FOMC to move, given its self-imposed bar of deflation first. So, to me it's a thin hope.
With US third quarter earnings in the offing, there  has also been a reassuring lack of profit warnings. Such might support the rally but only if, and it's a crucial "if", forward earnings aren't guided lower.
The US data is some support for the rally but not its source. The green shoots that the market sees this time around are all of the policy variety and it is in Europe where they are seen to be most obvious. The shoots take the form of magnificent promises by officials to get stuff sorted. And there are some hopeful signs. The promises of Germany and France have become meaningless, but they are now backdropped by considerable pressure being exerted from the Anglopshere. That pressure has been piling on since the IMF meeting in Washington several weeks ago but is ratcheting up. One wonders if this is genuine or a part of some coordinated effort to prepare the core European polities for the next round of bigger still bailouts to banks and sovereigns.
The IMF is also preparing a raft of new products aimed at making short term loans to countries with liquidity issues (read Spain and Italy).
But, it's still an almighty punt. The green shoots of 2008 had an objective economic basis. Policies for recovery were already in place – TARP, TALF, PPIP, ZIRP, QE, stimulus. Today's policy green shoots offer no such thing. Nor do they solve any of the underlying issues in the Eurozone. Competitiveness is still a problem. Sovereign debt is still a problem. There will still need to be debt write downs. And austerity deals will continue to kill growth.
In this context, I still don't trust the equity market rally. So I've looked at credit markets for some confirmation. It's a mixed picture. There's not much hope still in Greece (the following are all two year bond yields):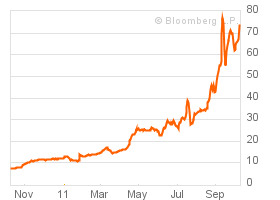 Nor Portugal: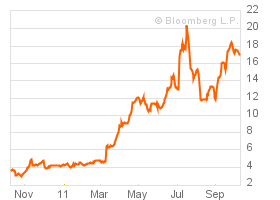 Spain looks better: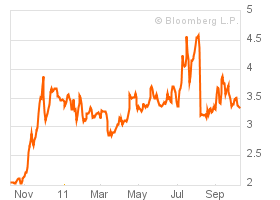 But Italy doesn't: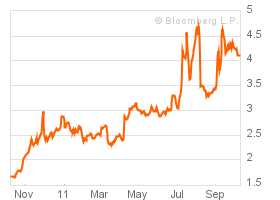 And the core countries yields are threatening to bounce, which might be a genuine release of tension or be foreshadowing a shift of risk contagion to the core as the prospects of bigger bailout leveraged to the French and German Budgets moves closer: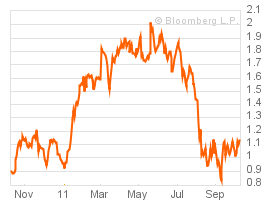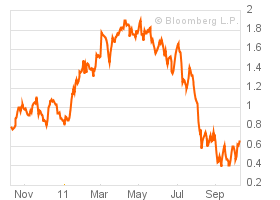 A slowing of European officials slowness is a pretty dodgy second derivative. But that's what we've got and so far it's enough. But unless we get real action, The Prince's targets for the ASX200 in the mid 4000's look pretty good for a juicy short.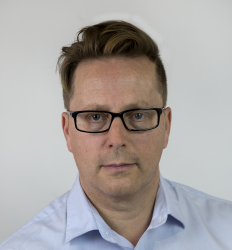 Latest posts by Houses and Holes
(see all)