The National Australia Bank (NAB) has released details of a record result today, overshadowed by the glitches on the ASX.
The basic summary of the result is thus:
19.2% increase in cash profit to $5.5 billion
5.7% increase in revenue
23.6% increase NPAT of $5.2 billion
2.34% to 2.17% decrease in Net Interest Margin (NIM) since March 2010 HY
The standouts were a large increase in mortgage growth and business lending, subsequent reductions in bad debt charges and arrears rates (which goes counter to the notion that current interest rate levels are too high) and an overall increase in market share.
A splendid result for shareholders, but a closer look is warranted.
Market Share and Funding
Business lending market share improved somewhat over the year: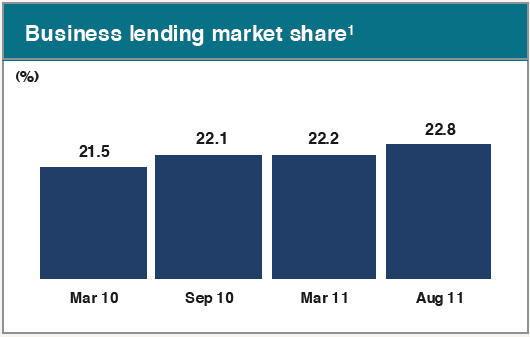 Mortgages and Arrears
The residential loan book 30 days past due vintage from 2006 through to 2011 shows that recent loans have been performing well: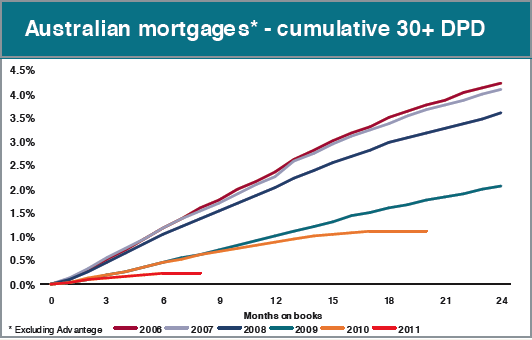 Overall a good result, with a subsequent increase in the dividend, which will please longer term investors. Surprisingly, arrears levels and bad charges have been reduced and contained, although there are some small signs that SME businesses are feeling the pinch. Risks abound due to funding pressures and as NAB moves alongside the Commonwealth Bank (CBA) and Westpac (WBC) as concentrated Australian real estate mortgage investors.
Latest posts by Chris Becker (see all)