The Unconventional Economist has noted before that the business coverage on the ABC is capable of some happy interpretations of economic data.
Last night was a clear case in point. During the news, Phillip Lasker presented details of the ongoing crash in the iron ore price and kudos for covering it.  But he overlaid his chart of the price action with another data series, labelled "shipping rates". Here is the video (h/t the Lorax):
Now, there's no such thing as an index of generic shipping rates but in the dry bulk cargoes of iron and coal the Baltic Dry Index is as close as we get. So here is Lasker's chart: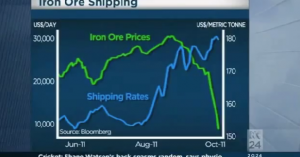 The blue line is the Baltic Dry Capesize Index, which transports iron ore and coal (h/t Sideshow Bob).
So what's the problem?
Well, here's the Baltic Dry over a longer, more indicative timeframe: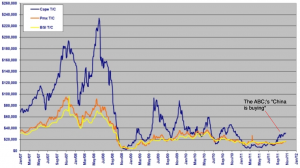 As you can see, the ABC has truncated the chart to give the impression that the Chinese are charging back into the market, when in fact, the index is barely managing to raise an eyebrow. And that' quite apart from the very large and growing questions over the efficacy of the BDI since new ship supply exploded last year. After all, the index has completely failed to register the dry bulk boom that's been underway for two years at least.
Whether error or otherwise, the ABC has badly misled the public.