Overnight, global PMIs painted a gloomy picture of advancing economic weakness. First up, the J.P.Morgan Global PMI dropped into recession for the first time since June 2009, falling from 50.2 in August to 49.9 in September: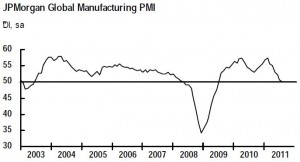 The new orders index showed greater weakness with a 0.9 point fall:

Ironically, the US was the stand out perfomer, with it's ISM climbing a little to 51.6% in September, up from 50.6% in August. The new orders index was unchanged at 49.6% (h/t Calculated Risk):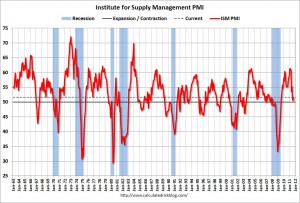 But the slide of the Eurozone is continuing, down 0.5 t0 48.5 points in September: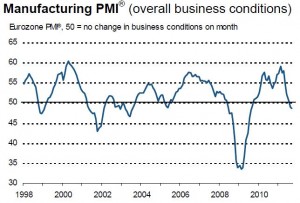 Every Eurozone country has been drawn into the vortex, with the exception of Germany (for now):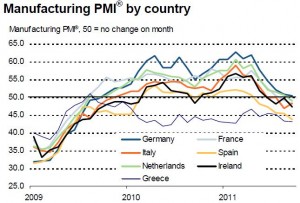 And, the new orders index is signaling much worse ahead: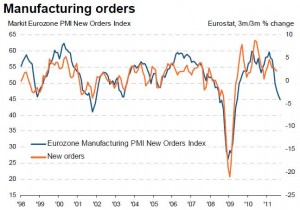 In Australia's region, Taiwan also reported its fourth month of shrinking manufacturing, down to 44.5 from 45.3 in August. Brazil also shrank further on similar figures. Canada bucked the trend with a  slight rise to 55.
So, Europe is leading Western industrial production into recession. North America is holding up OK on recovering vehicle production but the rising $US and slumping external demand is going to catch up to it sooner rather than later. The BRICS are not decoupled.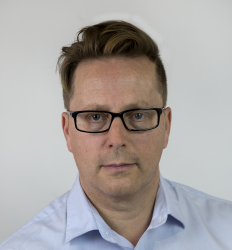 Latest posts by Houses and Holes
(see all)