The latest SQM research newsletter contains some more rays of sunshine for the property market.
Figures released this week by SQM Research revealed that residential property listings have actually declined during the month of August 2011, coming to a total of 362,793 nationally. Falling by 14,522 listings since July 2011, total amount of stock on market decreased by 3.8% month on month.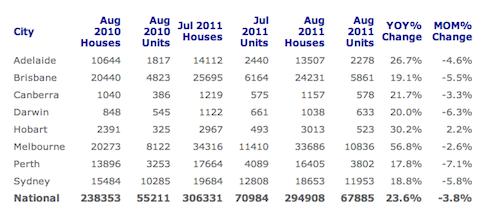 On top of the consumer confidence  figures this suggests some arresting of the falls in the housing market although, somewhat ironically, I don't detect that level of optimism from RPData. Louis however puts it down to some other factors.
With all capital cities except Hobart experiencing a monthly decline in listings for sale, the current buyer's market eased slightly for the month of August. However comparing these figures with that of the corresponding period last year (August 2010) we are still seeing a substantial swell in listings- with a national year-on-year increase of 23.6%.

The capital city to experience the largest monthly decline was Perth, falling by 7.1% (1,546) during the month of August, coming to a total of 20,207.

The only capital city to experience a monthly increase was Hobart, climbing by 2.2% (76) during the month of August, coming to a total of 3536.

Melbourne experienced the largest year-on-year increase in stock, rising by 56.8% (16,127) since the same month last year (August 2010).

No capital cities recorded yearly declines in stock, however Perth experienced the most modest year-on-year growth, increasing by 17.8% (3058) since this month last year (August 2010).

Managing Director of SQM Research, Louis Christopher says "The results for August have been surprising. We were expecting a rise in listings and instead we have had a noticeable fall. This still could be a seasonal effect and it also could be vendors withdrawing their properties in the hope of relisting during better market conditions.

"Nevertheless, our base case here is that listings will rise during the selling season. If that were to not materialise or only rise marginally, this would be one signal to us that the peak in supply would be reached. For now, it is a wait and see situation and of course, monitoring other indicators on the demand side."
I guess we shouldn't really be surprised by this analysis given Louis's previous predictions. The latest data available in housing credit issuance certainly doesn't instil me with any confidence that the downward trend in prices is about to abate and even so the long term downwards trend is still very much in play. I do however expect to see some temporary distortions in the market caused by some state governments fiddling with their duties.
Having said that, AFG did recently report a surge in business in August and I think it is still very easy to detect that there is pent up demand for housing in Australia even if I consider it misguided. It is therefore possible that the recent falls in prices mixed with the near-term outlook for interest rates has spurred the market into action. I have to admit I cannot see any of that particular behaviour in the data, but that doesn't mean that I am not on the lookout for it.