Well it looks like housing finally got some good news yesterday with a bit of a Queensland driven rise in housing finance. This was a predicted event. I had this to say back in July:
I am actually expecting to see a bit of an uptick in median values in July as people bring forward their property transactions to beat the rise in stamp duty from August 1st. However there is not much movement in the latest auction rates data to support that theory, even so I am fairly sure that is what we will end up seeing.

However, after July 31 I would expect to see another slump after the mini-boom of July and I certainly cannot see anything in either the sales volumes or credit issuance trends in Queensland to support rising prices.
So I have already got half a point. I will have to wait another month to see if I get the full point. We have already witnessed one set of unintended consequences from the legislative change and if previous government interventions in the housing market are anything to go by then I expect to see the second.
The most interesting thing that I take away is that Queensland managed to re-stimulated the market with the incentive of a small time limited tax break. This is a clear demonstration that it is still very easy to stimulated demand in the housing market no matter how crazy you think the participants are in accepting such a deal. This small market intervention by the Queensland government may require a re-assessment by anyone who thought that stimulus would not be as effective a second time around.
Another ray of sunshine sneaking out from behind the dark clouds is the latest monthly report from my old data foe at AFG:
August mortgage sales surged to their highest volume in over eighteen months according to AFG, Australia's largest mortgage broker. AFG processed over $2.7 billion of mortgages in August – the highest volume figure since March 2010. Refinancing accounted for 38.2% of all mortgages as property owners took advantage of a highly competitive lending environment.

While August figures are typically stronger than previous months, these figures trend well above seasonal expectations. There was a sharp increase in fixed rate home loans as lenders heavily discounted their rates. Fixed home loans comprised 9.4% of all loans processed compared to 7.9% in July – the highest level since December 2010.
A quick check of their Queensland report also suggests I could be about to lose my other 1/2 point, and possibly eat some words: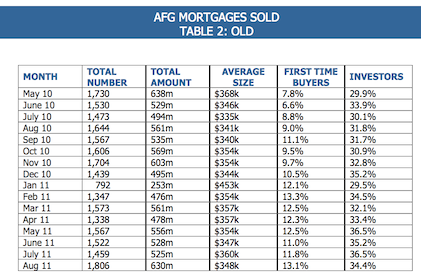 Time will tell. And yes, that's a big jump in first home buyers.
Louis Christopher from SQM Research seems to be half in the sun and half in the shade in his latest newsletter, which backs up some of his previous comments that interested parties should be watching the market closely in case there is a bottom.
He predicts that in 2012, if there is a 25 basis point cut in official cash rates, prices would likely bottom out and even post modest gains in some cities, as the property downturn eases and confidence begins to return to the market. However if rates are left on hold, house prices are likely to keep falling well into 2012 with no market bottom until at least the middle of the year. If rates we to rise by just 25 points, either this year or next, house price declines would accelerate throughout the course of the year.

Below is a table, featured in the Christopher's Housing Boom and Bust report, revealing Louis Christopher's forecasts for median house price growth in each capital city for this calendar year and the next

Speaking of the report, Louis Christopher said "We have made forecasts based on three scenarios for interest rates. Our base case scenario is that interest rates are unlikely to change in the immediate future.

 "If interest rates do remain unchanged through to June 2012, then the accumulated peak to trough declines for most Australian capital cities will reach double digits by the end of that calendar year.

 "It's clear to us that this current housing downturn is starting to build some momentum which is going to be very difficult to stop without some kind of stimulus from either the RBA or the federal government."
Sunshine for housing? Or just a small clearing before the next storm cell? The international context will have a lot to say on that front. But for now, all eyes will be on the August ABS data release.