RPData's latest newsletter is out and, as expected, is once again fairly bearish. Canberra is bucking the trend on the back of the public sector, everywhere else is struggling in degrees from a little to a whole lot. It must also be noted , because I find most people struggle with the idea, that a % fall is more negative than a corresponding rise of the same % value is positive when the fall occurs after the rise.  i.e  (100 + 10%) – 10% = 99.
While the headline figures for each capital city are meaningful, drilling below the surface reveals a wide variance in how house values are performing from region to region.

Capital city house values fell by a total of -1.5% over the June 2011 quarter and by -2.8% over the preceding 12 months. The growth in house values has lagged that of units over the past year and over the past five years. While capital city unit values have grown at an average annual rate of 6.2% for the five years to June 2011, house values have grown by a lower 5.2% annually.

The relatively more subdued capital growth performance across the detached house market compared with units is reflective of changing lifestyle patterns as well as likely being reflective of home buyers seeking more affordable alternatives than houses (with units typically cheaper).

Of all the capital cities, house values in Brisbane recorded the largest declines over the 12 months to June, falling by -6.9%. As the accompanying table shows, not one region of Brisbane has recorded positive growth in house values over the past 12 months. The magnitude of value falls has varied from a -0.1% fall in Inner Brisbane to a -13.9% fall in values within Beaudesert Shire Part A which comprises the southern suburbs of the Logan council region.


Perth has also shown a weak housing market over the year with values falling by -6.2%. All Perth regions recorded value falls for houses however, it has been the most expensive areas of the city, Central Metropolitan and South West Metropolitan, which have recorded the largest declines in house values over the year.

Relative to all other capitals, the detached housing market in Sydney was the best performed over the past year with home values declining by just -0.3%. A number of regions across Sydney have recorded positive value growth over the past year, in fact, Inner Western Sydney has recorded the strongest growth in values of any capital city region up 10.0% over the year. On the other hand, the popular Eastern Suburbs with its million dollar price tags for houses has seen house values slump by -7.7% over the last year.

Melbourne has been the best performing capital city housing market since 2007 however, property value growth is quickly transitioning out of the market after values rose by almost 50% since the beginning of 2007. House values across Melbourne have fallen by -2.6% over the year to June 2011. Boroondarra City (-7.5%), Moreland City (-7.1%) and Inner Melbourne (-6.7%) all of which are centrally located have recorded the largest value falls. Meanwhile, outer more affordable regions such as: Melton-Wyndham (0.2%), Northern Outer Melbourne (1.0%) and Mornington Peninsula Shire (2.2%) are the only regions to record value growth for houses over the year.

Overall, of the 60 capital city regions detailed only 12 have recorded positive growth in house values over the past 12 months and all are located either in Sydney, Melbourne or Canberra. Despite the recent weakness, all regions have recorded positive average annual growth in house values over the past five years however, nine regions have grown at a rate below 3.0% annually. Most notable are Sydney's Gosford-Wyong region (0.4%pa) and Perth's South West Metropolitan region (0.9%pa) where values have failed to grow at a rate of at least 1%pa over the past five years.

Overall, the results highlight that house values are falling in most regions with the most susceptible to falls typically being the higher priced inner city locations. It is important to remember that in many instances these markets have outperformed when market conditions were much stronger than they are today.
RPData's has also released its latest video which once again contains more bearish outlooks.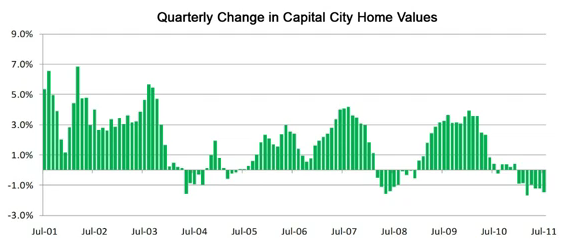 The first chart Tim Lawless presents ( shown above ) clearly shows that this downturn is gearing up to be far worse than the corresponding downturn during the GFC but as yet we have seen no sign of government intervention.In fact both NSW and Qld have recently adjusted their stamp duty programs to target new builds which will be putting downward pressure on existing housing as they take affect.
Tim does suggest that there maybe some hope for the market just around the corner in a recent blog post.  But given current global economic conditions I suspect we will be seeing a lot more of "wait and see" than "buy, buy ,buy " this spring. It is possible that the lower prices in some capital cities could entice buyers back into the market. However there seems to be an acceleration of price declines in areas that have been performing poorly for longer periods of time. This suggests that these markets are capitulating, although it's probably too early to make that call. It is therefore possible that spring will actually be far worse than the earlier parts this year as more stock comes onto the market in anticipation of sales that don't eventuate.