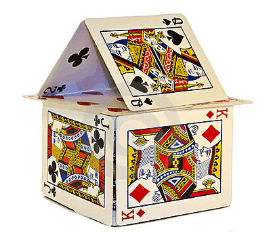 A few weeks back, I published a post highlighting how real estate agents seem to have turned from 'talking-up' the housing market to 'talking it down' in order to boost sales.
I provided some recent email reports from a Ray White real estate agent that set a new benchmark for bearishness. Well, today I want to share with you the latest reports from this agent, which makes interesting reading.
The first email report is from Thursday 8 September 2011;
Domestic and global conditions form an integral part of buyer sentiment and must be considered in conjunction with local market conditions. The media last week was dominated by the continuing speculation over interest rates and rising unemployment.

An article in the Sunday Telegraph quoted Reserve Bank (RBA) governor Glenn Stevens saying recent job losses are not only a sign of the times but a signal of worse to come. The comment came after Bluescope Steel announced the retrenchment of 1000 workers and Qantas, Westpac and One Steel reported further job cuts. Official job losses for the month of August now number 9000, although economists say these figures are the tip of the iceberg and could jump drastically to 100,000 by Christmas.

An article in the Herald Sun said the RBA now needs to cut rates, but is unlikely to do until unemployment rises.  Dr Ed Shann director of Prime Value Asset Management said the RBA has been keeping rates on hold due to global uncertainty but that rates may fall next year.  A Sydney Morning Herald article quoted Commsec economist Savanth Sebastion as saying financial markets have factored in two rate cuts over the next twelve months.

The latest Australian Property Monitors (APM) data has shown median house prices fell in every capital city during the July quarter. Perth suffered the greatest fall, down 2.7%, with Melbourne and Sydney the most resilient, down .9% and 1.1% respectively. An AAP article quoted senior Westpac economist Matthew Hassan as saying the weakness in the residential property market is concerning, as it suggests most sectors are experiencing significant price corrections rather than just price slippage.

Professor Steve Keen wrote in the Property Observer that three bubbles in Australian housing in the past 50 years have been driven by accelerating levels of private debt. He believes prices need to fall by 40% just to counter the effects of the latest bubble which began in 1997…

In light of the current conditions and the high level of market uncertainty going forward, we urge you to carefully consider the activity around your property this week.
The next email report is from Thursday 15 September 2011:
In the current environment of uncertainty, macro conditions may overshadow local market conditions and the two must be considered in conjunction for their impact on buyer sentiment. The Reserve Bank's (RBA) decision last week to leave the official cash rate on hold at 4.75% came as little surprise, the tenth consecutive month rates have remained stable.

While the RBA is adopting a wait-and-see approach, Governor Glenn Stevens has cautioned that there is no way of knowing what will happen in financial markets over the coming months.  Stevens said any number of hurdles in Europe or the United States could serve as a catalyst for increased anxiety, a situation that could persist for the foreseeable future.  An article in the Sydney Morning Herald reported financial markets are now pricing in 1.35% of rate cuts over the next twelve months. Westpac chief currency strategist Robert Rennie said he senses an increasing sense of deterioration in the global economy.

The Herald Sun reported almost 10,000 jobs have been stripped from the workforce, with the jobless rate rising to 5.3%, the highest level in ten months. Official employment figures show the ailing retail and manufacturing sectors are shedding jobs in a contraction which was largely unexpected by economists.

The Sydney Morning Herald reported on new data released by researcher SQM Research which predicts house prices will continue to decline in 2012. The report said while an economic catastrophe in China or a second global financial crisis could result in a major price crash, it's more likely prices will continue declining as buyers avoid a falling market. Director Louis Christopher said he believes Melbourne, Brisbane and Perth prices will be as much as 15% below their 2010 peaks by June next year, assuming rates remain on hold…

In light of the current climate and with an overwhelming uncertainty hanging over the future direction of the market, we encourage you to carefully consider any activity around your property this week.
Despite the real estate agent's bearishness, which borders on hysterics, they are probably correct to be concerned with the state of the market and the negative impact that poor sentiment is having on sales volumes. The below chart from RPData shows that the trend in consumer sentiment and national sales volumes has shown an 84% correlation since the start of 2008: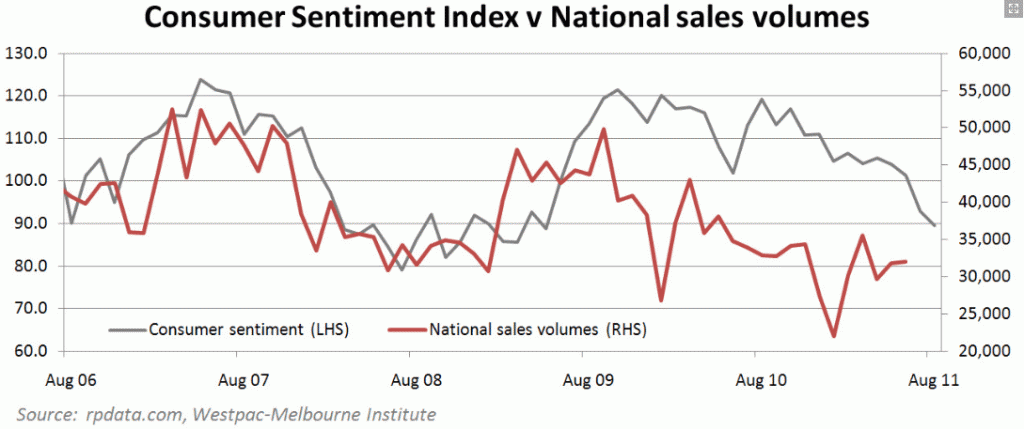 And rising unemployment and mortgage stress risks dampening buyer sentiment even further. From Bloomberg:
The number of homeowners facing mortgage stress has jumped from 21 percent in March, mortgage insurance provider Genworth Financial Inc. said in its September Homebuyer Confidence Index, based on surveys conducted from July 30 to Aug. 5, and released today…

"As the market slows, people just take their properties off the market and delay their decision to move, rather than renting it," said Matthew Hassan, senior economist at Westpac Banking Corp. in Sydney. "We see a significant rise in unemployment in the next 12 months, so in the near term, we're likely to see more stress in the mortgage belt"…

Rising consumer prices, even after seven interest rate increases by the Reserve Bank of Australia, are putting more pressure on homeowners with mortgages in the market with the most unaffordable homes in the English-speaking world…

Homebuyer confidence fell 2 percent from March, while 36 percent think now is a good time to buy a home, the Australian unit of Richmond, Virginia-based Genworth, said in today's statement.

About 85 percent of borrowers are still managing to make mortgage payments on time, and more than 45 percent have overpaid their mortgages over the past year, Genworth said. First-time homebuyers in particular are cutting back on luxury goods, clothes and groceries to own their homes, the group said…
The Ray White real estate agent appears to be walking a fine line. Whilst their alarmist statements might encourage stubborn vendors to 'meet the market', thereby potentially increasing sales, the same statements could very well dissuade potential buyers from making offers.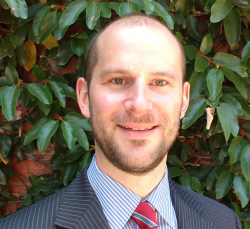 Latest posts by Unconventional Economist
(see all)