The S&P/ASX 200 is down slightly after midday, 16 points or 0.3% at 4316, after digesting European market plunges and US market shenanigans overnight.
Other Asian markets are experiencing gains, with the Nikkei 225 up 0.97% at 9724 points, and the Hang Seng steady at 22026 points.
Other risk assets are generally down, with the AUD below 1.07 again, at 1.069 against the USD. Gold has steadied at $1665 USD an ounce whilst WTI crude is down to $92.13 USD per barrel.
Movers and Shakers
It's mixed across the board, with the industrial and healthcare sectors rising, but utilities falling. The banks are all down, with ANZ and NAB losing over 1%, whilst WBC and CBA post modest falls. Macquarie (MQG) is steady after a dreadful week.
The resource twins BHP and RIO are treading water up 0.45% and steady respectively, with the market waiting on RIO's FY result. My preferred offspring – Cochlear (COH) and CSL – are down 1.4% and up 1.15% respectively.
Daily Chart
Todays chart shows the market well below its critical support level, as bulls scramble desperately for more stimulus.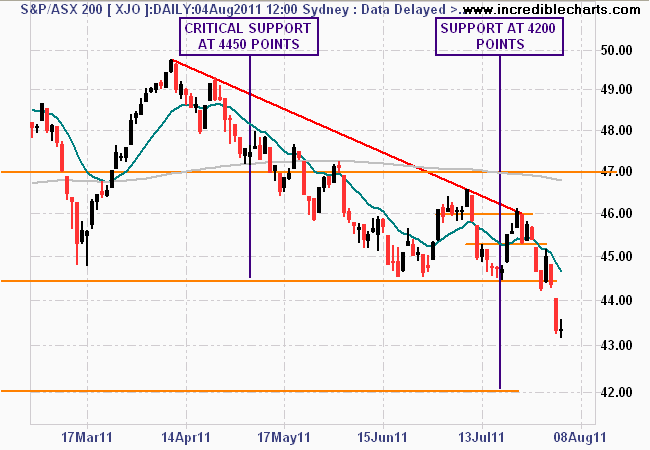 So far, this correction has wiped out all of FY2010 gains, and the market is down 8.5% for calendar year 2011. The next support level is ca. 4200 points, not that far away, and the index is likely to oscillate around that level as earnings come in over the next month.
European and US equity markets stand on a precipice and are likely to experience further falls in coming days or weeks as the lagging macro data is absorbed by pundits and institutions. The Australian market will be going through some high volatility in the month ahead because of the full year earnings season (Australian companies only report twice a year), which will add to the overall market bipolar behaviour.
Local earnings season is upon us – today, ERA, RIO and TCL are reporting, and I'll post a daily summary after RIO announces. Remember to bookmark the overall update here.
Latest posts by Chris Becker (see all)