The S&P/ASX 200 slumped on the open and is down over 1% after midday, waiting for the princes at Martin Place to maker their decision. The market is down a total of 58 points or 1.32% at 4439, wiping out most of yesterdays stellar gains.
Other Asian markets are experiencing similar losses, with the Nikkei 225 down 1.32% at 9833 points, and the Hang Seng down 0.52% at 22546 points.
Other risk assets are mixed, with the AUD just below its record high, now at 1.0979 against the USD, whilst gold has recovered back to $1623 USD an ounce. WTI crude is down to $95.21 USD per barrel.
Movers and Shakers
It's red across the board, with all sectors losing, the financials leading the pack front. The banks are all down 1-2%, with NAB almost down 3%
The resource twins BHP and RIO are also in the party, losing 2% and 1.7% respectively, whilst my preferred offspring – Cochlear (COH) and CSL – are down 1.7% and 2.3% respectively.
Daily Chart
There was no reason to get excited yesterday after all, with the index back below critical support at 4450 points. A rate rise by the RBA is likely to slaughter what is remaining of the bulls. Today's macro data has added to the demise and the rest of the week's data has to surprise strongly on the upside to regain the negative sentiment.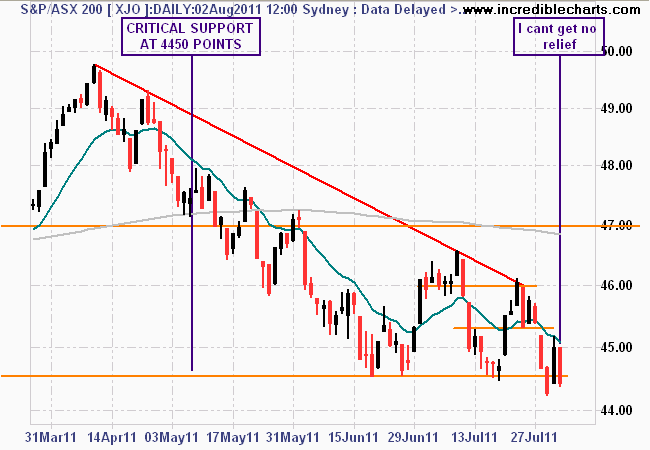 Local earnings season is upon us – remember to watch all the updates here.
Latest posts by Chris Becker
(see all)