The S&P/ASX 200 slumped on the open, down over 160 points or nearly 4% and is now at 4115 points.
Other Asian markets are experiencing similar sharp losses, with the Nikkei 225 down 3.5% at 9319 points, and the Hang Seng falling further, down 4.5% at 20895 points.
Other risk assets are getting walloped, with the AUD now at 1.0485 against the USD. Gold has slipped slightly and is now at $1652 USD an ounce whilst WTI crude continues to fall, now down to $85.59 USD per barrel.
Movers and Shakers
It's deep scarlet red across the board, with all sectors falling, the energy sector the worst casualty, down over 5%. The banks are all down between 2 and 4% with ANZ the biggest loser. Macquarie (MQG) is down over 8% capping off a dreadful week.
The resource twins BHP and RIO are the main suspects in pushing the index into deep negative territory, down 4.4% and 5.5% respectively. Cochlear (COH) and CSL – are down 1.36% and 2.6% respectively, although must be welcoming the writedown in the AUD.
Today's Chart
Todays chart will be weekly, as I can't bear to post the daily version.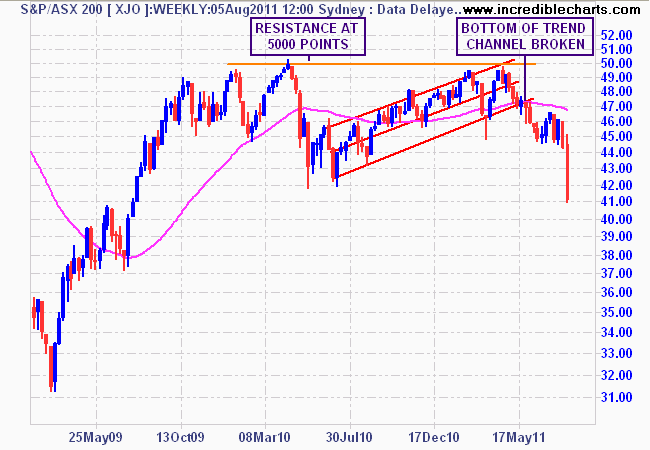 Point to note – this correction has wiped out all of FY2010 gains, all of FY2009 gains and is at a six year low. I'm sure you'll see a variation on that theme presented as a reason to buy in the days and weeks ahead. A final note – the market is down 17% from its May high, whereas the main Euro and US markets are only down 7-8% so far.
European and US equity markets stand on a precipice and are likely to experience further falls in coming days or weeks as the lagging macro data is absorbed by pundits and institutions. The Australian market will be going through some high volatility in the month ahead because of the full year earnings season (Australian companies only report twice a year), which will add to the overall market bipolar behaviour.
Local earnings season is upon us – today only Resmed (RMD) is reporting. Remember to bookmark the overall update here.