The S&P/ASX 200 closed today down 52 points or 1.26% to 4251 points.
Asian markets experienced similar lossess, with the Nikkei 225 closing down 1.25% at 8943 points, and the Hang Seng down 0.5% at 20184 points.
Other risk assets are mixed, with the AUD slipping against the USD, now at $1.0502, WTI crude down 0.5% to $87.11 USD per barrel. Gold is up slightly, trading at $1797 USD an ounce.
Movers and Shakers
It's red across the board, except Wesfarmers and AMP who posted earnings today. The banks closed the day down with small losses, with NAB leading the way, down 0.86%
The resource twins BHP and RIO are again the main drivers behind the losses on the index down 1.8% and 1.4% respectively.
Daily Chart
The daily chart is now showing a certain "mort feline" pattern – i.e a dead cat at the apex of its bounce.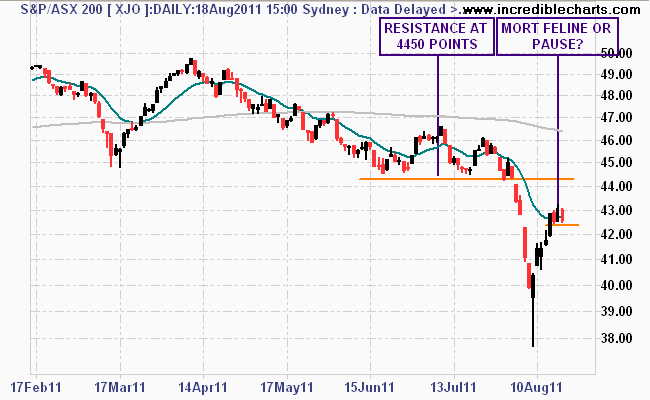 A close below short term support at 4230 points is very bearish with a target just above 4100 points.
This remains a bear market, with all technical indicators (and behavioral and most fundamental indicators too) not pointing to a new bull market in stocks.
Local earnings season ramped up today with 9 companies reporting, and 7 more to follow tomorrow including Billabong, Fortescue and QBE Insurance. Remember to bookmark the overall update here.
Latest posts by Chris Becker
(see all)