So, BHP has announced a profit of epic proportions. The Age sets the scene nicely:
BHP Billiton has vaulted into the ranks of the world's top 10 earning companies – and sparked fresh debate over how much tax Australia should collect from its booming mining sector – after the resources giant posted a staggering $A22.46 billion profit for the latest year.

The result, driven by booming exports to China, completely dwarfed all previous profits earned by Australian companies, and was among the biggest 20 in global corporate history.

Only six other companies in the world – including US oil giant ExxonMobil, Royal Dutch Shell and Nestle – have ever posted fatter profits than the Melbourne-based miner did in the 12 months to June 30.
As a quick aside, had BHP merged with Rio in 2007, this would have been in the top five profits of all time, anywhere.
Anyways, the MSM has picked off the low hanging fruit with regard to the result and its political ramifications (see today's links). I thought I'd just take a quick tour through the preliminary results presentation to give you an idea of the importance of two factors, iron ore and Chinese construction.
Not surprisingly, the leverage to Chinese growth is huge and growing: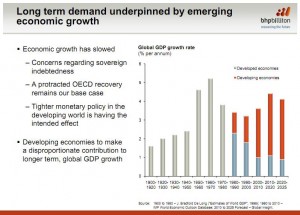 And let's not forget that China consumes very nearly half of the world's iron ore. Next up, the split of products and respective margins: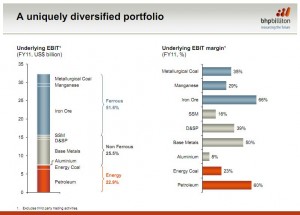 That is a mighty fine margin in iron ore and it makes up roughly half of the underlying profit. So far as I know, that is all Australia. Such is confirmed by a chart of price impacts on profit: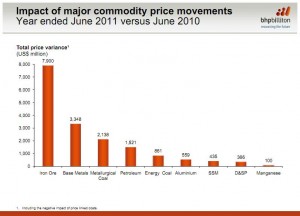 And by a chart showing the sensitivity of profits to underlying price movements: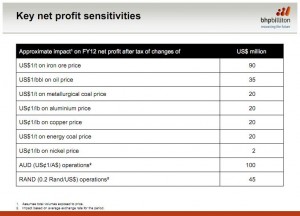 Yes, every $1 move in the iron ore price is equivalent to $90 million profit. And don't forget that most other commodities are still substantially below their 2008 prices.
Good luck to BHP for making hay while the sun shines. Australia should do to same. Tax iron ore and stick the dough in an SWF for when the boom ends.
The full report is below:
110824_BHP Billiton Preliminary Results for the Full Year Ended 30 June 2011_Presentation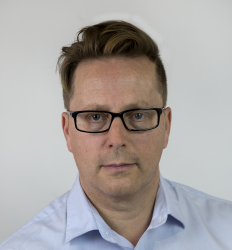 Latest posts by Houses and Holes
(see all)