Here's an important data point I missed last week amid the market madness. From the Melbourne Institute:
The median expected inflation rate, reported in the Melbourne Institute Survey of Consumer Inflationary Expectations, decreased to 2.7 per cent in August from 3.4 per cent in July.

According to Dr. Michael Chua, a Research Fellow at the Melbourne Institute, "Consumers have lowered their inflationary expectations this month. This may be a reaction to the waves of negative news − there was news about "plummeting" share markets following the United States credit rating downgrade, news about contracting retail sales, and news about the RBA lowering their GDP growth forecast for 2011."
Here is a chart of long term expectations: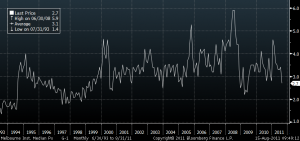 That's certainly a trend break and is another blow to any expectation of an expanding wage/price blow out. Another data point indicating rates have peaked, for now at least.
We might also observe that if the measure of inflation expectations is some kind of proxy for consumers expectations of growth then optimism has just taken a blow, as you'd expect. It will be very interesting to see the actual effects of consumption.
P.S. The other thing you might ask is, after 2000, what on earth was Ian Macfarlane doing?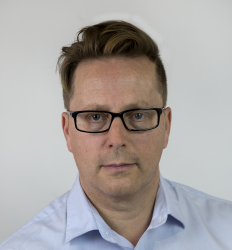 Latest posts by Houses and Holes
(see all)