Four companies reported earnings today on the ASX: Flexigroup (FXL), Commonwealth Bank (CBA), Computershare (CPU) and Stockland (SGP). Macrobusiness will be reporting on earnings and valuing the key companies throughout the earnings season. Remember to bookmark the overall update here.
Flexigroup (FXL)

Flexigroup, a point-of-sale lease/rental finance company, announced a 27% increase in net profit after tax of $52.9 million for the full year.
Volumes were also up 27% for the year, whilst margin growth and reduction in impairments added to the bottom line.
FXL increased its funding support from banks diversifying into newer facilities with substantial reserves.
The company declared a 5.5 cent dividend and provided FY12 guidance of 12-15% profit growth.
Computershare (CPU)

Computershare announced a profit of $264 million for the full year, down 10% on last year on flat revenue growth.
Earnings slumped 4% due to a mixture of "weaker corporate activity globally, a lack of large transactions in the US mutual fund business and reduced filings in the US bankruptcy administration business", according to the company.
The company declared a 14 cent per share, 60% franked dividend with an ex-dividend date of the 19th of August.
Although CPU has a high Return on Equity (ROE), it is declining and has substantial debt and intangible asset levels.
Stockland (SGP)

The large land and property developer Stockland reported a large rise in cash profit of $754.6 million, up 57.7 per cent from $478.4 million in the previous year. Most of the good result came from an increase in profitability on retirement unit sales and on residential property, although volume was noted as quite lower.
Stockland declared a final distribution of 11.9 cents per share.
SGP gave earnings guidance of zero to flat growth for FY12, assuming no further rate rises, and a return to normal consumer confidence levels and house buying activity. They expect commercial property to be flat and are relying on further demand in their retirement portfolios.
Due to very volatile earnings, low ROE and exposure to the housing market, Empire Investing do not consider Stocklands investment grade.
Commonwealth Bank (CBA)

The Commonwealth Bank has announced a net profit of $6,634m for the year, with revenue increasing 11% to $46.2 billion.
Cash return on equity stands at 19.5%, an improvement since the lows of 2009, but still below pre-GFC levels.
CBA declared a final dividend of $1.88 per share, fully franked, which indicates a dividend yield of 6.6% on today's closing price.
Key points include:
Impairment expense reduced dramatically from $2bn in FY10 to $1.2bn in FY11
Tier 1 capital increased to 10.01%
Net interest margin increased to 2.19 from 2.13
The company gave a cautious outlook, suggesting that "fragile consumer and business confidence, political and regulatory uncertainty and subdued system credit growth" will weigh on future earnings growth capability.
CBA are forecasting total credit growth in FY12 in the 3-5% range, with housing credit at 4-6% and no changes in margins or impairments.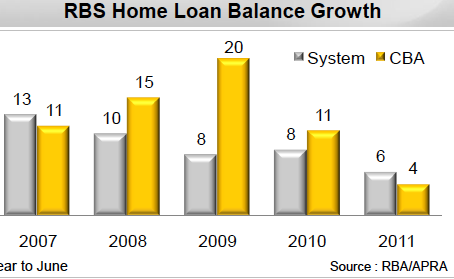 Disclosure: The author is a Director of a private investment company (Empire Investing Pty Ltd), which may have a current interest in some of the businesses mentioned in this article. The article is not to be taken as investment advice and the views expressed are opinions only. Readers should seek advice from someone who claims to be qualified before considering allocating capital in any investment.
Latest posts by Chris Becker
(see all)