The RBA has released its monthly Chart Pack and like last month's release, I'm going to have a look at this impressive data set for MacroBusiness readers. A warning, its chart heavy (obviously).
The Chart Pack is divided into 16 categories, including international data, but this month I want to concentrate on domestic data, but first a look at the saviours of the Aussie economy.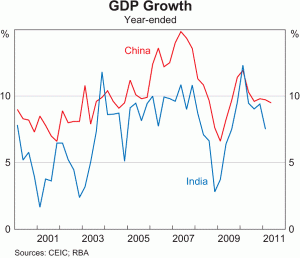 Finally, my "favourite" graph. The much ballyhooed RBA cash rate needs to be adjusted for inflation – the actual cost of borrowing. Forgive my straight line analysis, but the trend is very clear – the real cash rate is in a structural downward trend. The RBA has cyclically raised rates and at each subsequent peak in those cycles, the maximum real rate is lower than before.
When the political-housing complex froths at the mouth at the spectre of an 0.25% increase and the nominal rate is far from onerous, you know something is wrong.
Latest posts by Chris Becker
(see all)