Look, I'm not a bear by nature. And frankly, I'm a bit tired with the grim macro outlook. But it is what it is and today it's most definitely taken a turn for the worse.
Contagion is now rampant in ten and two year bonds at the core of Europe. Here are the charts:
Italy two year: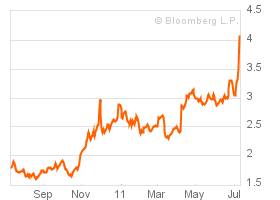 And the ten year: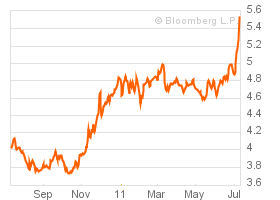 Spain two year: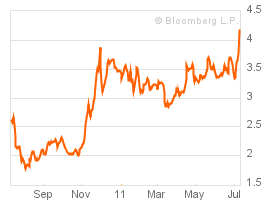 Spain ten year: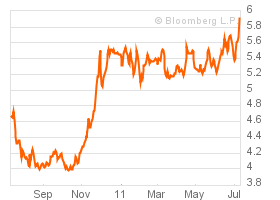 Similar breakouts are apparent for Irish and Portuguese yields, with rises also in Greece and Britain. German yields have collapsed.
It doesn't take Einstein to figure out that the EU crisis has entered a new phase. Is it the end game of default?
Perhaps for Greece, where it seems the rescue package has run aground once more, according to the WSJ:
Euro-zone finance ministers are bogged down in debate Monday, as a proposal mapped out for private-sector participation in Greece's next bailout appears to face impossible hurdles.

Leaders had agreed the price for a second Greek rescue package would be participation by private-sector creditors. However, they said at a June 19 meeting that the participation must be substantial, voluntary and wouldn't result in selective default.

"They now see all three are not possible," said one EU official. He was already separating himself from the strategy, adding, "We never thought it was a good idea."

Another official said the voluntary participation "is not going forward."

"It's over," the official said.

… At the heart of the issue: Credit-rating companies have made clear that any significant effort to make private creditors pay for the bailout would be treated as a debt default for Greece. Most top officials–chief among them European Central Bank President Jean-Claude Trichet–have said letting that happen is unacceptable. However, a number of EU officials doubt the ECB would precipitate a banking crisis in Greece by rejecting government debt as collateral.

That leaves Europe with a stark choice: Either make European taxpayers responsible for funding Greece indefinitely, or shift some of the burden to private creditors and suffer a debt default.

After months of trying to find a middle ground, none has emerged. That has sent finance ministers back to the drawing board, and it is becoming clear that a breakthrough before the August summer holiday is unlikely.
However, at the same time, the EU is moving to water down rating agency powers. From Reuters:
Banks in the European Union face curbs on how much they can depend on ratings from credit agencies to calculate the size of their capital safety cushions.

Michel Barnier, the EU's financial services chief, said he will make the proposals as part of his reform to bring EU bank capital requirements in line with a global accord known as Basel III that will increase the size of capital buffers.

"To limit overreliance, we will be strengthening the requirement for banks to carry out their own analysis of risk and not rely on external ratings in an automatic and mechanical way," Barnier said in a speech.

"We will also make other concrete proposals before the end of the year to limit over-reliance todeal with insurance, asset management and investment fund sectors," Barnier also told the European Securities and Markets Authority (ESMA).

The draft law is due to be published on July 20.

Peter De Proft, director general of the European Fund and Asset Management Association (EFAMA), told Reuters many investment firms already do their own credit analysis. "It will be more difficult for the smaller ones," De Proft said.

Moody's angered the EU this month by downgrading Portuguese debt despite the country securing an EU bailout.

Barnier said the "absolute minimum" must be to improve transparency in how agencies reach such decisions.
And meanwhile, over the Adriatic, Italy is being drawn in despite a not unreasonable macroeconomic position. From the NYT:
In recent days, Italy has become Europe's next weak link after Greece, Ireland and Portugal and Spain, harmed in particular by a power struggle between Prime MinisterSilvio Berlusconi and his finance minister, Giulio Tremonti. The dispute threatens to turn the euro zone's third-largest economy, after Germany and France, into one of its biggest liabilities.

On Monday, the Italian government struggled to rein in the tensions, as fears rose that political paralysis could make it harder for Italy to embrace the austerity demanded by outsiders to reduce one of the highest debt levels in the world. European policy makers also sought to figure out how they would put out a bigger fire if Italy were to succumb.

…"Italy is too big to fail," said Moisés Naím, a senior associate in the international economics program at the Carnegie Endowment in Washington. "If Italy really gets hit by contagion because of political mismanagement, it would be a threat not only to the euro zone, but to the global economy."

Political soap operas in Italy — especially those featuring Mr. Berlusconi — are nothing new. Nor did they usually matter much to financial markets, even after the debt crisis hit Europe. The widespread problems in Italy's economy, which has been sluggish for the better part of a decade, also rang few alarm bells.

What's more, Italy's banks are sound; they never speculated in a housing bubble. The current annual budget deficit is low, at around 4.6 percent of its gross domestic product. And while Italy issues the largest amount of bonds of any euro zone country, Italians own about half the debt, making it less vulnerable to the follies of financial markets.

But with interest rates rising, Italy's economy is not growing fast enough to cover an accumulated debt load of 120 percent of gross domestic product, the second-highest in Europe, after Greece. The International Monetary Fund expects growth to rise only slightly, to 1.3 percent in 2012.
This all has the whiff of chaos about it. As George Soros argues today, the EU needs a Plan B. Perhaps the EU will ride to whatever rescue is required at the eleventh hour once more. However, the policy paralysis that is apparent surely means further market pressures before that happens, at best.
And sadly, as I've noted for months, the backdrop for this increasing instability is increasingly weak, with the same policy chaos gathering pace across the Atlantic where both monetary and fiscal policy is also paralysed. From Gavyn Davies:
Particularly worrying is the growing evidence that the US economy is struggling even to hold unemployment constant, while fiscal and monetary policy have both become moribund for the time being. The markets still seem confident that US growth will spontaneously reignite in coming months, without requiring any help from expansionary policy. If they are wrong, there are few signs that US policy would be able to respond quickly or coherently.

No-one has been able to find anything good to say about last Friday's US employment report. Those who initially tried to claim that faulty seasonal adjustment processes were responsible for the sluggish performance of the labour market were soon shown to be wrong. This left a uniformly bleak picture, with every aspect of a normally multifaceted report showing that the US economy is now failing to create enough new jobs to keep unemployment constant, given the underlying rise in the labour force.

The three most important economic statistics in the US each month – or at least the ones which have by far the biggest impact on the markets – are the payrolls report, and the two ISM surveys on business activity. This is what they look like:

The setback in these critical reports since economic growth hit a peak in February is unmistakable. Admittedly, the slowdown is not at present any greater than the similar one which occurred in the early summer of last year, a slowdown which was subsequently reversed. Furthermore, there are some factors, like the impact of the Japanese earthquake on the supply chain, and the rapid rise in energy prices, which should start to work in the other direction fairly soon. These are presumably the grounds for what remains of the markets' lingering optimism.

However, the policy back-drop is entirely different from last year. Then, the Federal Reserve was unwilling to see any significant drop in economic growth, because it was worried about the possibility of outright deflation. Ben Bernanke has consistently argued that the onset of deflation is a non-symmetrical risk, which justifies the use of urgent and unconventional policy measures. This year, by contrast, he says that US inflation is "above target", and probably does not believe that he could win the support of the FOMC for QE3 unless the economy and markets get much worse first.
The great bear market rally of 09/10 and the underlying global recovery was built upon the bedrock of fiscal and monetary policy integration and success across the Western world. That singular achievement is now falling apart.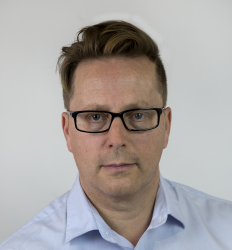 Latest posts by David Llewellyn-Smith
(see all)