As Data Sword posted yesterday the latest RPData report is out. I am running a little behind on this, but as usual I like to do a bit of analysis of the media release to find things that you won't see reported in the MSM
Capital city dwelling values declined by 0.3 per cent (seasonally adjusted – s.a.) in May, and are down 1.2 per cent (s.a.) over last 3 months. Rest of State house values were also weak in May (-0.1 per cent s.a.) and are off -0.9 per cent (s.a.) over last 3 months. Gross rental yields for Aussie apartments are now 5.0 per cent.

Based on more than 110,000 home sales nationally in 2011, the market-leading RP Data-Rismark Home Value Index for Australia's capital cities declined by -0.3 per cent (s.a.) in the month of May (or by -0.5 per cent in raw terms). Capital city home values have now fallen for the last five consecutive months with by far the worst seasonally-adjusted result coming in the month of January (-1.2 per cent), which accounts for 45 per cent of the 2011 decline.

The softening in Australian home values is delivering a valuation dividend with Australia's dwelling price-to-disposable income ratio falling to 4.2 times, which is its lowest level since June 2003 according to Rismark's analysis.

RP Data's research director, Tim Lawless, added "For property investors, rental yields are also improving with RP Data-Rismark's Index showing that gross Australian apartment yields have now risen to 5.0% (see chart). The best rental yields can be found in Darwin (5.7 per cent), Canberra (5.4 per cent), Brisbane (5.2 per cent) and Sydney (5.2 per cent). The worst yields are in Melbourne (4.2 per cent), Adelaide (4.6 per cent) and Perth (4.9 per cent)."
I have no idea what a "valuation dividend" is and I can't remember ever reading about it from RPData in the past. I can only assume it is a nice way of saying "prices are falling", however I can actually think of a number of scenarios for people with existing housing assets ( and associated debt ) where there is absolutely no value in falling house prices so I cannot understand the use of the term in this context.
Below are the previous two versions of that last chart so you can see the evolution of the changes over recent months. It is fairly obvious outside of Brisbane ( see below ) that the downward trend continues.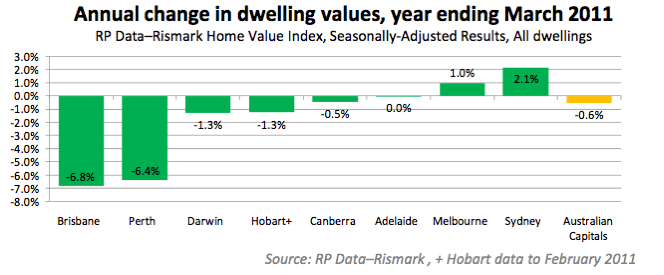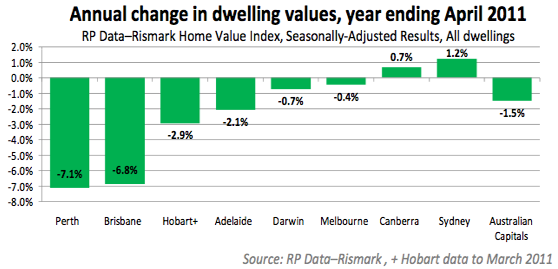 I also note that the "switcheroo" continues in the press releases which I find very odd behaviour from this housing data provider. Any form of long term trend graph about prices has disappeared and is now replaced with a chart about rent which I have not previously seen in one of these press releases. I have no issue with providing additional information to investors about rental yields but , as I have mentioned previously, housing is relatively illiquid so it is long term trends that really matter . The replacement of those charts with rent data and only displaying a simple YoY value change is not particularly useful. Hopefully we will see the other charts in Tim Lawless's youtube presentation sometime later this month.
"After extraordinary capital gains in recent years, Darwin (-3.2 per cent) and Melbourne (-2.9 per cent) have also both experienced small corrections. Interestingly, in the last three months the laggards have again been Perth (-4.2 per cent), Melbourne (-1.8 per cent), and Brisbane (-1.4 per cent)" Mr Lawless said.

RP Data-Rismark's Rest of State Index captures the 40 per cent of all homes not located in the capital cities. The Rest of State areas have had smaller peak-to-trough swings in value since 2007. Over the three months to end May, Rest of State house values were down -0.9 per cent and -1.4 per cent over last 12 months.

The national median dwelling price in capital cities is $470,000 based on sales over the three months to May. Sydney is the most expensive market, with a median dwelling price of $522,000 followed by Melbourne ($500,000). The cheapest cities continue to be Hobart ($315,000) and Adelaide ($382,500). In the Rest of State markets, the national median dwelling price is a far lower $325,000. Across all Australian regions, the median dwelling price is currently $420,000.

Reflecting on Australia's patchwork economy, RP Data's Tim Lawless commented, "Despite what appears to be fairly strong fundamentals, the Perth housing market doesn't appear to be turning just yet. For a city that is recording rapid population growth, low unemployment and a large private capex boom, house prices have nevertheless been contracting since late 2007 after years of above average capital growth in the pre-GFC period. Today the critical missing piece of the puzzle seems to be buyer demand."
That missing buyer demand continues in the latest credit growth data from the RBA, suggesting that this trend will continue.
What I find a little puzzling about this report is that there is no focus on Brisbane which seems to be the only capital city pushing against the tide.

I do wonder if this is insurance related activity  but I cannot verify that until the ABS releases housing finance data on July 11th. RPData no longer publish housing transaction data as far as I am aware ( another bugbear ) so the ABS is now the only source of data to verify sales volumes. I have stated previously that I believe this is a leading indicator for house prices. SQM's stock on market page shows that Brisbane's stock has peaked in the short term and there is also a chance of a further up-tick in activity in Queensland as people try to avoid paying additional stamp duty before August 1st.
Apart from Brisbane however I can't really see anything in this report to suggest that the fall in house prices is slowing. Perth is starting to look like a basket case and the overall picture is not much better with Sydney the only capital showing growth over the last 12 months ( and that is before inflation ). The overall index is now down 2.3% but that is mainly due to the fact that Sydney is the largest market.
I hope that RPData get their act together and start re-reporting some long term statistics as they are the things that really matter for anyone deciding whether property should be added to their portfolio at this time.