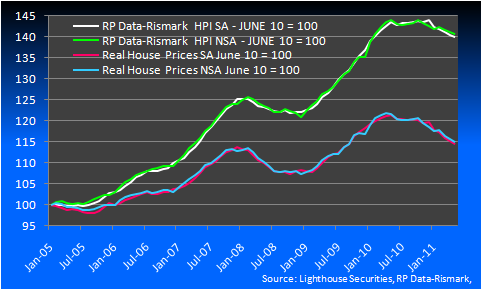 The monthly RP Data – Rismark House Price Index was released this morning for May with the raw data showing a fall of 0.5% after last month's fall of 0.1% was revised to -0.3%. In seasonal adjusted terms the fall in May was 0.3% after last months 0.3% was revised to a fall of 0.4%.
As the chart above shows there is no hiding from the fall in house prices both in Nominal terms but equally in "real" or inflation adjusted terms.
Now we have modelled the relationship between the quarterly moves in the ABS house price data series and the total monthly value of housing finance ex-refinancing and we see a 0.97 correlation since the mid 1980's.
So add this data in with the above correlation and today's RBA credit aggregates and you get an outlook for house prices that suggests further weakness ahead.