As I have been talking about this for months now, nothing is actually being fixed in Europe. Until the less productive countries actually default or Europe creates itself a real fiscal/monetary union then the "debt show" will roll on. The Wall street Journal reports today that the next act for Greece begins in September.
Euro-zone finance ministers signed off on a new slice of bailout money for Greece, avoiding a financial meltdown this month, but left themselves with a heavy task ahead to work out details for a new rescue package for the country. The ministers' agreement in a teleconference call on Saturday evening leaves only the expected approval of the board of the International Monetary Fund before €12 billion ($17.4 billion) is handed over to Athens. The payment is expected by July 15.

The IMF said it welcomed the "euro group's commitment to a financing strategy" for Greece. Ministers also decided they would agree by September on arrangements for a new bailout to supplement the €110 billion package they agreed on last year but which fell short mainly because Greece is unable to raise money in financial markets as had been expected.

German Finance Minister Wolfgang Schäuble said after the teleconference that a new aid package for Greece could be approved by autumn, in time for the next expected quarterly tranche of EU/IMF aid. The Greek finance ministry also said a deal was expected by mid-September. The ministers said they will continue to work on ways to encourage holders of maturing Greek government bonds to contribute to the new rescue package.

The ministers said the "precise modalities and scale of private-sector involvement and additional funding from official sources will be determined in the coming weeks."

This is likely to be achieved through encouraging private investors to reinvest some of the proceeds from maturing Greek bonds into new debt. The ministers reiterated their position that any such plan must avoid Greece being declared in "selective default" by credit-rating agencies. A European official said that even though euro-zone governments may not agree the outlines of the second bailout package by July 11—as they had intended—there would be "full clarity" on private-sector involvement later this month.
As mentioned in the article, all of this talk about bailouts hinges on the idea that credit rating agencies don't declare the changing of parameters of the existing bailout as a default. If that does occur then we are all back to crisis, only this time it will be much worse as the other failing European economies will also join in. From this morning's links.
Financial markets are braced for renewed turmoil this week amid growing doubts about the complex rescue plan for the debt-burdened Greek economy.

Analysts are increasingly questioning the French and German governments' plan for holders of Greek bonds to swap them for new loans as part of a fresh aid package.

The Greek prime minister, George Papandreou, met his side of the rescue bargain last week by winning MPs' approval for radical new austerity measures, including €50bn of privatisations, public sector wage cuts and widespread civil service job losses. But eurozone ministers have so far failed to agree details of a new rescue, expected to be up to €110bn.

The debt-swap proposal, which French and German banks have agreed to, involves offering new 30-year loans in exchange for expiring bonds, to meet Germany's demand that investors bear some of the costs of a new Greek bailout.

But analysts say it is likely that ratings agencies could still brand the plan a default. That would trigger chaos in world markets, as investors were forced to slash the value of their Greek debts – and could also lead to Portugal and Ireland, the other bailed-out eurozone states, having their debts downgraded.
I have also been mentioning the European interbank lending market as something to watch for any stress as a precursor to trouble. Last week the Euro Libor peaked at the highest rate since early 2009. This may have simply been an end of FY effect as it has now fallen again, but you can see from the chart that the rate has been trending up in May and June. This however may be connected with the "Strong Vigilance" rhetoric from the ECB and the expectation the ECB rates will rise again shortly.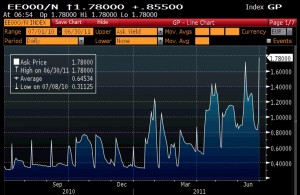 The financial times has also been reporting about the changing dynamic in the European interbank lending market recently. Non-collateralised lending has all but disappeared, while collateralised lending is booming.
Interbank lending using European government bonds as collateral has reached record levels, in spite of worries over Greek debt default and the future of the eurozone.

By contrast, lending between banks without the backing of collateral has ground to a near standstill for any loans of more than a week's duration, as fears of bank insolvency rise due to continuing uncertainty over Greece and its emergency loan payments.
Given the recent European debt issues this isn't too much of a surprise, but the fact that there is now a stalled non-collateralised market and the Euro libor is rising suggest the interbank market is not well place for a shock. Even if the ratings agencies are kind to Europe, September still needs to be penciled into your calendar.