Another day, another episode in the soap opera that is European economics. It seems more detached from reality the longer it goes on.
From Reuters:
Euro zone finance ministers postponed a final decision on extending 12 billion euros ($17 billion) in emergency loans to Greece, saying Athens would first have to introduce harsh austerity measures.

The ministers said they expected the money, the next tranche in a 110 billion euro ($156 billion) bailout of Greece by the European Union and the International Monetary Fund, to be paid by mid-July. Greece has said it needs the loans by then to avoid defaulting on its debt.

But keeping up their pressure on Athens, where public opposition to austerity has been growing, the ministers insisted that disbursement would depend on the Greek parliament first passing laws on fiscal reforms and selling off state assets.

"To move to the payment of the next tranche, we need to be sure that the Greek parliament will approve the confidence vote and support the programme, so the decision will be taken at the start of the month of July," said Belgian Finance Minister Didier Reynders.
I feel like I am living on another planet when I read these sort of reports.
Firstly there is the short term issue that , as noted by Zero Hedge over the weekend, even if  full payment of 12 billion euro managed to get past the EU and IMF, it still requires two rounds of votes from the Greek parliament, and even if it manages those hurdles it doesn't even cover Greece's bill until August.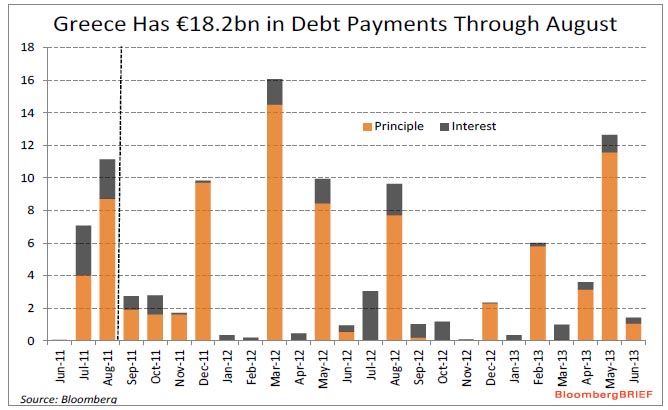 On top of that small little problem there is the big one. A problem that no one in the Euro-elite seems to either be aware of or wants to acknowledge. The problem that under the current European macro-economic environment Greece continues to leak money from its external sector every day. I have spoken about this issues previously where I stated.
Put simply, austerity isn't fixing the real problem. While Greece sells its national assets, its wealth continues to leave the country via the foreign trade sector even as unemployment rises. Under these conditions there is simply no way that the country or its people will be able to pay back the debt they have accumulated, and continue to accumulate.
The financial times also covered this issue in a recent video blog.
BBC also reported on the loan argy-bargy this morning and included a chart displaying which Euro nations are in the firing line of an initial default by Greece.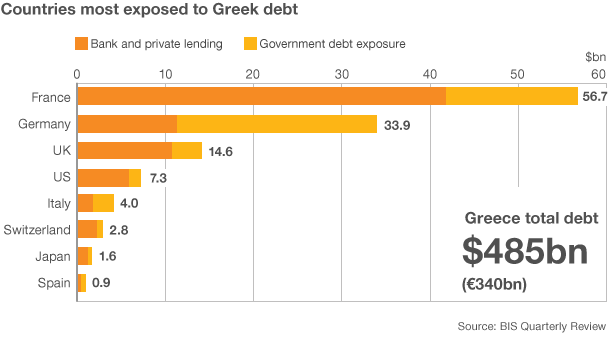 The Big Picture also has interesting data on which private institutions are involved and are suggesting that Greece needs at least a 52% default on bonds, and that is just to get debt back to 90% of GDP.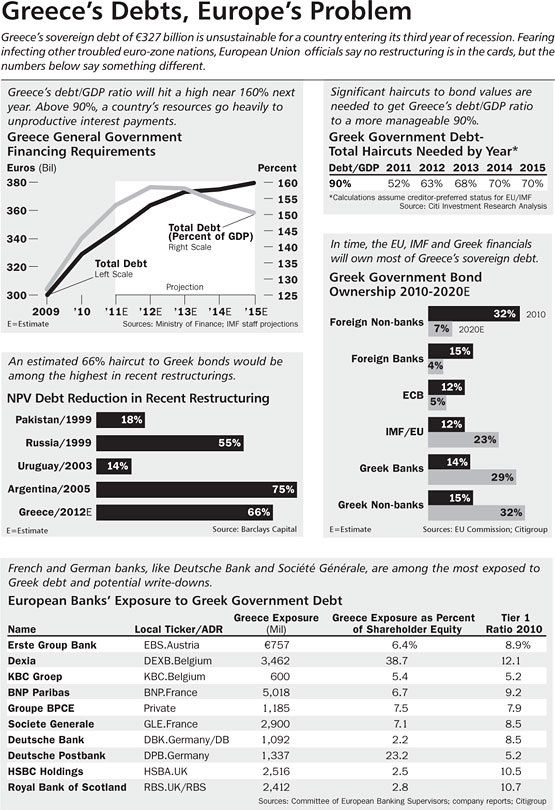 As you can see from the above data, and as I have been warning, while the Euro-elite argue over 6 billion euro, Greece's debt continues to rise. The implementation of austerity is causing GDP to contract, real industrial output to fall, commercial and residential property prices to slide and to top it off  80% of the population doesn't agree with the austerity package and rioting in the street has now become a daily event as the Greek government is looking increasingly vulnerable.
It seems to me, under these circumstance, that a Greek default is imminent. Obviously the Euro-elite want to bury their heads in the sand because they understand that whatever is finally offered to Greece will be the starting point for negotiations with other Euro nations in a similar predicament. Europe may be able to afford a 52% restructure on Greek debt, but it certainly cannot afford it on Irish, Icelandic, Portuguese and Spanish debt.
However, the final decision on how to handle Europe's debt crisis may be taken out of the politician's hands. The European private banking system look as if it may have already made up its mind about what is going to occur in Europe in what looks to be the making of a new credit crunch. The Guardian reports that European inter-bank liquidity is drying up.
Senior sources have revealed that leading banks, including Barclays and Standard Chartered, have radically reduced the amount of unsecured lending they are prepared to make available to eurozone banks, raising the prospect of a new credit crunch for the European banking system.

Standard Chartered is understood to have withdrawn tens of billions of pounds from the eurozone inter-bank lending market in recent months and cut its overall exposure by two-thirds in the past few weeks as it has become increasingly worried about the finances of other European banks.

Barclays has also cut its exposure in recent months as senior managers have become increasingly concerned about developments among banks with large exposures to the troubled European countries Greece, Ireland, Spain, Italy and Portugal.
There is no question, sooner or later Greece is going to default. Is this time finally it?