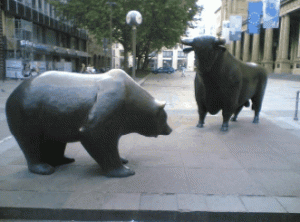 On Friday, Bloomberg published an article entitled Australia's home price plunge pits local bank bulls against foreign bears.
The article nicely summarises the conflicting views about the Australian residential property market, with foreigner's pessimism largely tempered by the local bank economist's rose coloured outlook:
Australian home prices in 2011 have fallen the most in three years, pitting local banks which say the drop will be short lived against overseas investors betting it's the start of an overdue rout.

The nation's four biggest lenders, which account for about 87 percent of outstanding mortgages, are forecasting prices will be underpinned by a housing shortage, population growth and an economy boasting near full-employment. Overseas investors say high debt, unaffordable homes and rising interest rates could cause home prices to tumble as much as 40 percent…
Make no mistake, this is by no means a ground-breaking article, and it is unlikely to provide any unique perspectives to keen observers of the housing bubble debate. Nevertheless, I want to bring the article to readers' attention as it would likely have been widely read internationally, and could influence (at the margin) foreign investor's perceptions of the Australian housing market and Australian bank debt.
Foreign bears:
The article provides the following list of bearish predictions from (mostly) foreign observers:
Marc Faber, publisher of the Gloom, Boom & Doom report, last month urged investors to short-sell Australia & New Zealand Banking Group Ltd. (ANZ) shares, citing excessive household leverage and an overvalued property market…

John Taylor, founder of FX Concepts LLC, the world's largest currency-hedge fund, says Australia's banks, which remained profitable throughout the financial crisis without government bailouts, are now overextended and will cut back on credit, helping spark a recession.

"Banks sailed through 2008 like the rest of us were all idiots," New York-based Taylor said. "They're not looking as pretty now"…

Taylor said Australia's dependence on China, its biggest trading partner accounting for about 25 percent of exports, may soon be a drag, rather than boost, as Beijing attempts to cool the economy.

"This is the beginning of a recessionary period for Australia and housing will be one of the markets to get hit," Taylor said in a telephone interview.

John Kim, an analyst at CLSA Asia Pacific Markets in Melbourne, said there is a speculative problem for residential investment properties driven by the "negative gearing" tax structure. Property investors in Australia can claim tax deductions on losses from property investments and offset those against other income, encouraging property purchases that otherwise don't make economic sense. Kim said Australian home prices could fall 15 percent in a worst-case scenario…

Jeremy Grantham, chief investment strategist at Boston- based Grantham Mayo Van Otterloo & Co., last year called the Australian housing market a "time bomb" set to blow when rates climb…

Gerard Minack, global developed markets strategist at Morgan Stanley, has said house prices are as much as 40 percent overvalued. Bank of America Merrill Lynch forecast last month that home prices will drop 10 percent from their June 2010 peak…

Mike "Mish" Shedlock, an investment adviser at Sitka Pacific Capital Management, who publishes the Global Economic Analysis blog, says [housing] shortage claims are "pure nonsense."

"We heard the same thing in the U.S.," Sonoma, California-based Shedlock, who predicts Australian home prices will decline by as much as 40 percent, said in an e-mail. "There is always a perceived shortage at the market top."
Admittedly, not all foreigners quoted in the article are bears:
Jack Foster, global head of real estate at Franklin Templeton Investments, said he's switched from a bearish view on Australia's housing market as the resilience shown by Australia's banks following the collapse of Lehman Brothers convinced him a slump is unlikely.

"It was hard to believe, given the weakness in so many housing markets around the world, that Australia wouldn't suffer," said New York-based Foster. "But what I missed was the discipline of the banks," which raised down payment requirements and avoided reliance on loan securitization…
Local Bulls:
Not surprisingly, the Australian bank economists are playing down claims that the Australian housing market is in a precarious position, resorting to the usual arguments about housing shortages, population growth and the strong Australian economy.
Rob Brooker, head of Australian economics and commodities at Melbourne-based National Australia Bank Ltd., said the "soft patch" is temporary. Prices will climb 3 percent to 5 percent over the next two years, driven by an investment boom, he said…

"There is a tendency for people overseas to extrapolate their experience of their own market to the Australian market, without really understanding the strength of our economy, the strength of demand, our connection to China and their growth story and the shortage of housing here," Brooker said…

James McIntyre, an economist at Commonwealth Bank of Australia (CBA), the nation's biggest mortgage provider, said income growth, and low unemployment of 4.9 percent, will support the housing market. McIntyre forecasts "subdued" growth for housing over the next year as the central bank raises interest rates to contain inflation…

Matthew Hassan, senior economist at Westpac Banking Corp. (WBC), said higher interest rates will in some ways support, rather than dent, home prices. He argues that higher rates will curb property development and exacerbate a shortage of homes that stands at 228,300 dwellings according to the government's National Housing Supply Council's estimate.

"As long as rates stay above average, demand will be suppressed, but supply will also be suppressed," said Sydney- based Hassan. He said he predicts a "patchy market."
For mine, there are two 'forecasts' that stick-out as nonsensical.
As much as I like Mish Shedlock, and remain a long time reader of his blog, his prediction of a 40% decline in Australian home prices is highly unlikely. To put things into perspective, arguably the world's biggest housing basket case – Ireland – only experienced a 37% peak-to-trough nominal decline in home prices before recovering slightly (see below chart).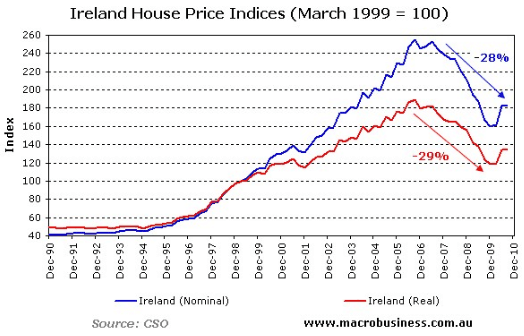 Similarly, US home prices have only fallen by around 30% peak-to-trough in nominal terms according to the narrow 20-city Case-Shiller index (see below chart) and even less according to the broader 50-state FHFA national index.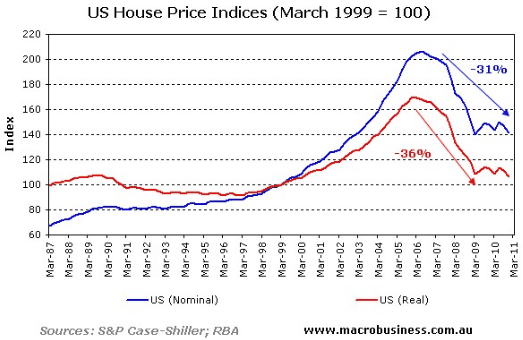 On the other end of the spectrum, Matthew Hassan's claim that "higher interest rates will in some ways support, rather than dent, home prices… [since it would] … curb property development and exacerbate a shortage of homes" is ridiculous and reminds me of an argument made recently by ANZ that a China-induced terms-of-trade crash would be favourable for house prices:
…a major collapse in the terms of trade could likely prompt policy settings "that can only be favourable for house prices, particularly if house price momentum has been restrained".

"Policy-makers intent on preparing for a 'post-terms of trade collapse' environment are likely to shift settings to a more accommodating stance. While the economy is likely to slow, the interest rate-sensitive sectors such as housing will benefit considerably and swiftly."
As noted previously, if commodity prices can remain near record highs and international capital markets remain willing and able to fund our banks, then a New Zealand-style slow melt is probably on the cards for the Australian housing market (see below chart).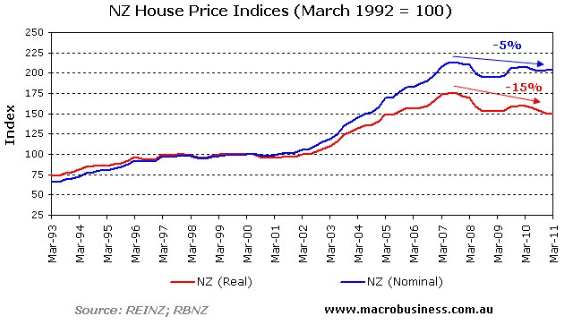 But should Australia experience a major external shock, such as a sharp slowdown of the Chinese economy, which causes commodity prices to fall back toward their long-run average, then a UK-style mini crash is more likely for Australia (see below chart).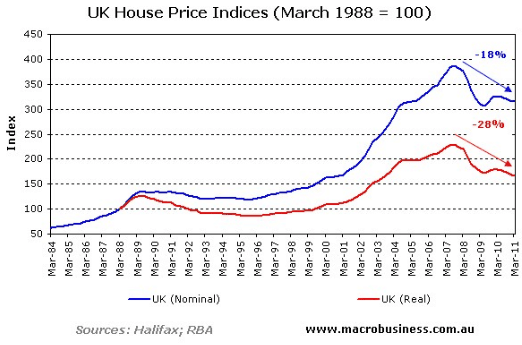 One thing's for certain, with downside risks far outweighing any upside potential, I would not be rushing in to buy Australian housing.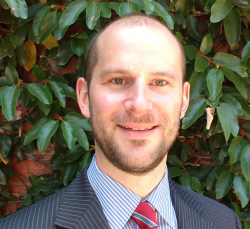 Latest posts by Unconventional Economist
(see all)