Houses and Holes defined the growing Western policy chaos this morning and right on cue the new IMF boss Christine Lagarde has thrown her two cents worth into the mess that is Europe with comments this afternoon that the "IMF hasn't yet discussed New Greek aid details with EU, nothing should be taken for granted on Greece".
As regular readers know I don't like to get too aggressive on these things (except for my trading positions from time to time) but what on earth are these Europeans playing at? This comment encapsulates the disconect between what is going on in the markets and the speed with which markets can move and the time that politicians are granting themselves to get to a fix.
As I noted yesterday, European debt troubles have, if anything, worsened in the past week. The reason I say that is that I think many interested bystanders thought that when the Greek deal was done the Greek deal was done. But that's not what we heard out of Europe over the weekend or after their meeting last night and now not from Largarde today.
While these latter-day European Nero's have dithered on a Greek solution, pressure has been growing on Italyover the past couple of weeks.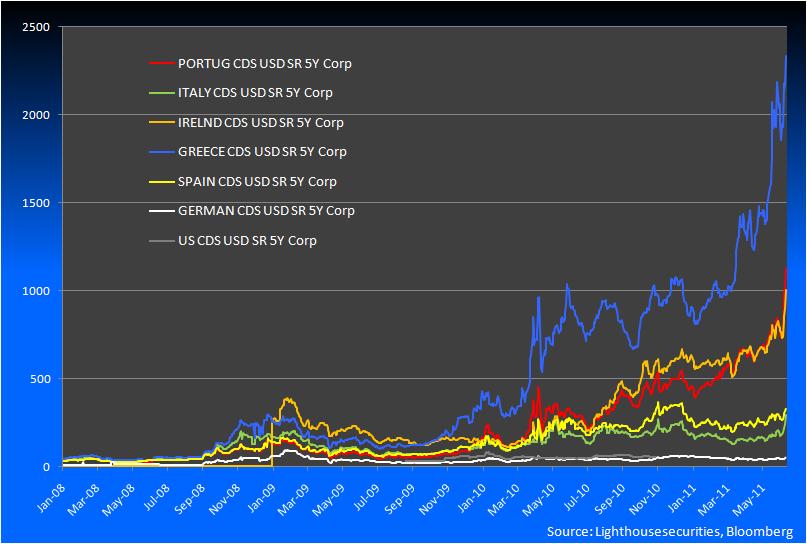 If you ask me why Italy and not Spain, my answer would be that as a trader, Italy made more sense in terms of profit potential and ease of execution (pardon the pun). That is, Spanish bonds and CDS spreads had already blown out quite a bit more than Italy which had been relatively quite over the past few months. You can see it toward the bottom of the chart above where the green Italian line is catching up with the yellow Spanish line. The scale of the chart is distorted by Greece's massively expensive CDS spreads but the magnitude of the move it worth the bet.
This made Italy a "cheap" market to attack. Equally, as we showed yesterday (chart again above)  the Italian debt pile is second, in terms of GDP only to Greece within Europe, so attacking this nation was the natural selection of traders.
And so it has been – while we now learn that Europe is still trying to save Greece traders smell blood in Italy and are now trying to knock it over. Italian politics isn't helping so markets, equities in Europe and in Asia today are getting smashed as is the EUR and the Aussie.
I think markets have crisis fatigue and where as over the past 2 months Asia kept selling off and then getting smashed by European or American bounces this could be a different set up.
Here are a few charts:
EUR/USD: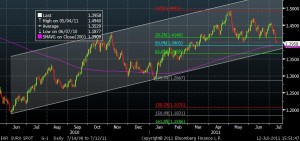 I'm on the record as saying that I think the real value of the Euro is closer to 1:1 with the USD and at 1.40 we are a long way from there as you can see on the chart above. But I feel like it's headed toward at least 1.35  and should go lower. Europe is a fractured state full of populations with nothing more in common than a pseudo geographic proximity. There is no fiscal transfer and this crisis is showing there is no appetite for a move toward a more United Federation or Commonwealth style arrange that we see in the US or in Australia.
AUD/USD: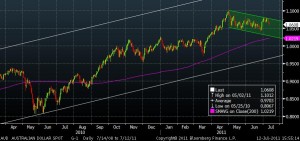 I'll leave equities to The Prince but technically Australians need to watch 4450/73 on the ASX 200.
All in all, markets are looking as poorly as they have over the past 2 and a half months. I doubt that soothing words from European politicians will placate the market this time and indeed the body language from people such as Lagarde suggests soothing words may be hard to find.
Markets are assailed by significant structural economic growth issues, are assailed by significant sovereign debt concerns and are losing faith that policy makers anywhere can do anything about it. This feels like the ERM or Asian Crisis to me. There is little policy makers can do – the obvious circuit breaker just isn't obvious.