The poor performance of the housing market mixed with banking competition has finally seen a move by a major bank. CBA has announced a small rate cut to one of its lending products.
The Commonwealth Bank has cut the interest rate on its recently launched "no fee" home loan offer as the battle for market share among the big banks intensifies in a low-growth lending environment.

Having introduced its new mortgage product at a debut rate of 7.24 per cent – a price that includes the "normal" discount offering on the more expensive mainstream standard variable home loans – the bank has lopped a further 13 basis points off the cost. The new variable rate of 7.11 per cent will reduce monthly repayments on the average size mortgage by $27 and comes as three of the banks counter attempts by National Australia Bank to corner a big chunk of new and refinanced home loans.
I think it is great for consumers to finally see some competition in the lending market, however $27/month certainly isn't about to create a stampede back to the housing market. As I mentioned over the weekend in a response to another post, the Australian consumer is currently under pressure from 3 things.
Firstly, interest rates which set the price of debt.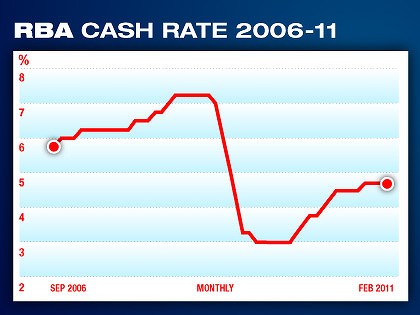 Secondly, the level of outstanding debt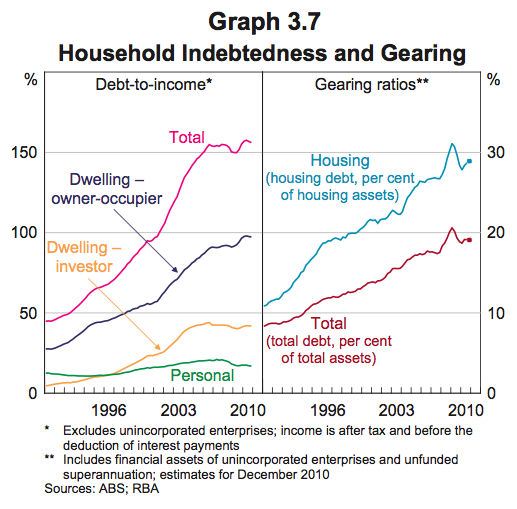 and thirdly, the basic costs of living.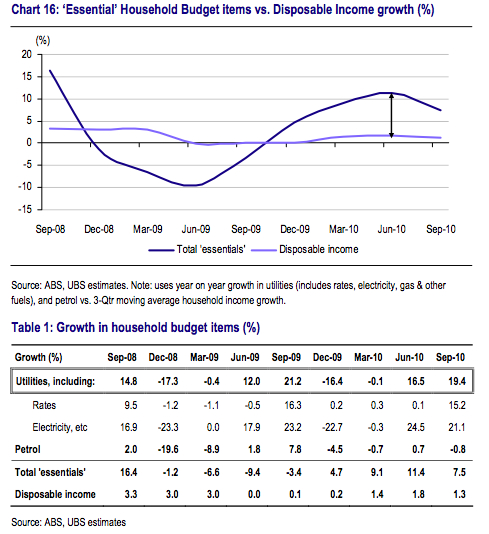 I am not sure that mainstream economists appreciate points 2 or 3. In regards to the third point I am seeing increasing pressure on many fronts. As the housing market slows the state government's revenue from housing transactions also slows. In order to maintain the previous level of public sector expansion those governments need to find a new source of income. Over the weekend the Australian reported on what that new source could be.
State governments will squeeze 11 per cent more revenue from their water and power utilities over the next year, just as households are hit with higher bills for power and water. Dividends from state-owned enterprises will siphon $3.9 billion into treasury coffers during 2011-12 — almost $400 million more than governments grabbed this financial year.

Most of the dividends will come from government-owned electricity and water utilities, which will raise prices next Friday in every state except Victoria. Electricity industry analyst Ben Freund, of GoSwitch, said yesterday it was ironic that governments were claiming to be concerned about the cost of living at the same time they were pocketing higher profits from their utilities.
and then there is food.
Families are paying $1300 a year more than two years ago for the same groceries – and it's about to get a lot worse. Experts warn food inflation is set to stretch household budgets to breaking point, pushing the average household's weekly food spend dangerously close to the $200 mark. With electricity prices set to rise 17 per cent in the next 12 months, further compounded by increases to gas, water, rates and taxes, the surge in food prices is merely the latest in a long line of rising costs helping to erode the savings of Australian families.

…. an average basket of groceries at any Coles and Woolworths supermarket in Sydney has jumped a staggering 16 per cent since 2009. That adds as much as $26 a week to the average bill.
Another measure of the actual cost of living is the ABS's analytical living cost index. The ABS describes the index as
[a measure of ] by how much would after tax money incomes need to change to allow households to purchase the same quantity of consumer goods and services that they purchased in the base period
The issue of higher cost of living is clearly reflected in the index which shows over the last 15 months actual living expenses for many types of consumers have been far in excess of CPI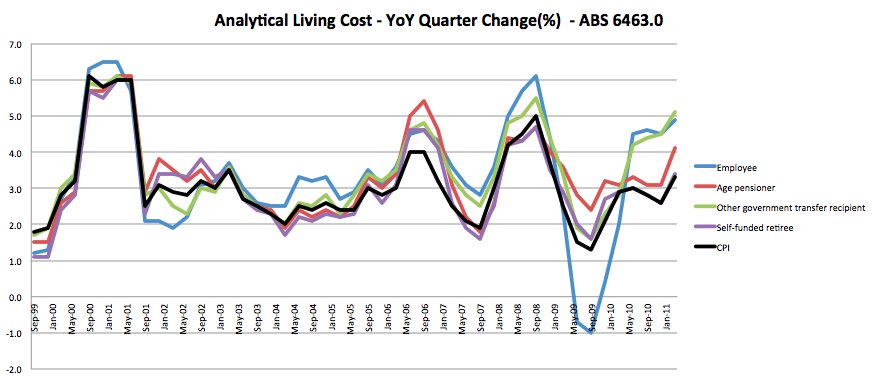 Under these conditions it isn't really a surprise to see banks offering incentives to attract customers. However with  interest rates at current levels and cost of living rising above CPI I think the banks are fighting a losing battle.