WBC released its 2011 Interim Results today. Below is a brief summary of the key figures along with select graphs taken from the broker presentation.
Profit
Reported Net Profit after Tax (NPAT) was up 14% to $3.961 billion with growth in cash earnings of 8% with all divisions (incl. NZ) experiencing growth. Similarly to ANZ, WBC benefited strongly from a fall in impairment charges which fell 20% (40% ANZ) overall, mainly through individually assessed provisions. Natural disaster (NZ earthquake, Aust. floods) provisions were extremely modest.
Net interest margin (NIM)
NIM improved in the first half up 4 basis points to 221 from 217 with the significant growth on deposits and less reliance on wholesale funding assisting.
Lending
Mortgage growth was good at 6%, although the St George division lagging mortgage growth (particularly in the boom states). Most growth is through the WBC retail bank.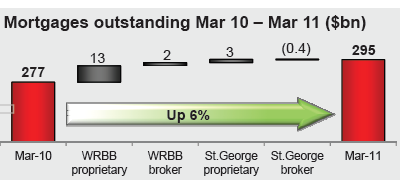 Business lending continues to disappoint down another 4%, mainly due to a retraction in commercial property lending, with only marginal increase in lending to productive businesses. No change in strategy there.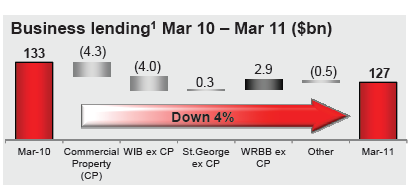 Funding
Customer deposit growth has exceeded lending growth, for a net $10 billion growth in deposits.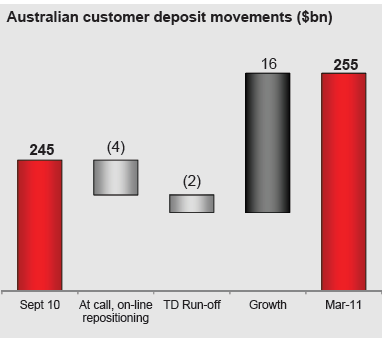 Like all big four banks, WBC still faces a short term debt maturity squeeze, with the majority of its debt (approx. 80%) maturing in the next 3 financial years. Liquid assets have improved marginally to cover the offshore wholesale proportion for the next 23 months, but this is almost entirely due to a lift in deposits and government guaranteed debt.
Dividend
WBC announced an interim dividend of 76 cents, up 17% on the prior period, whilst reducing the payout ratio to 72% from 75%. At yesterday's close this indicates a dividend yield of 6.06% plus franking credits.
Summary
WBC continues its "boring" model of dependence on Australian mortgages at the expense of business lending, so any housing correction or slowdown in mortgage growth will have a significant impact on revenue and increase capital requirements (thus reducing payout ratios).
Although deposit growth is exceeding lending, as Q Continuum pointed out summarising ANZ results yesterday, this can put increased pressure on Net Interest Margins as the banks compete for customers funds, as wholesale funding pressures abate.
Although the dividend yield at 6% is tempting, Empire still considers WBC non-investment grade due to it's Aussie mortgage exposure and the risks inherent in a slowing economy and broad disleveraging.
Disclosure: The author is a Director of a private investment company (Empire Investing Pty Ltd), which has no interest in any business mentioned in this article.  The article is not to be taken as investment advice and the views expressed are opinions only.  Readers should seek advice from someone who claims to be qualified before considering allocating capital in any investment.
Latest posts by Chris Becker
(see all)