The S&P/ASX 200 is down 22 points or 0.5% at midday, continuing the broad correction since mid-April. Asian markets are mixed, with the Nikkei down 0.1%, the Hang Seng down 0.2 and Singapore steady, on the back of news that Goldman Sachs has downgraded Chinese GDP growth. The AUD is back above 1.05 after dipping to 1.048 to 1.0524 against the USD, whilst gold is rising at $1516 USD an ounce and WTI oil steady at $97.9 USD per barrel.
Daily charts show the correction is within a trend channel, with broad weakness through individual stocks, particularly banks and resources. If prices close below 4650 points, the next target level is 4500 points, for a near 10% overall correction in prices since the April high.
Historically, this puts this current move beyond the average 5-7% loss of the 8 "dips" since the March 2009 low and into the "correction" category. The May 2010 Greece correction and February 2011 MENA/Japanese corrections each saw falls of 15% and 10% respectively.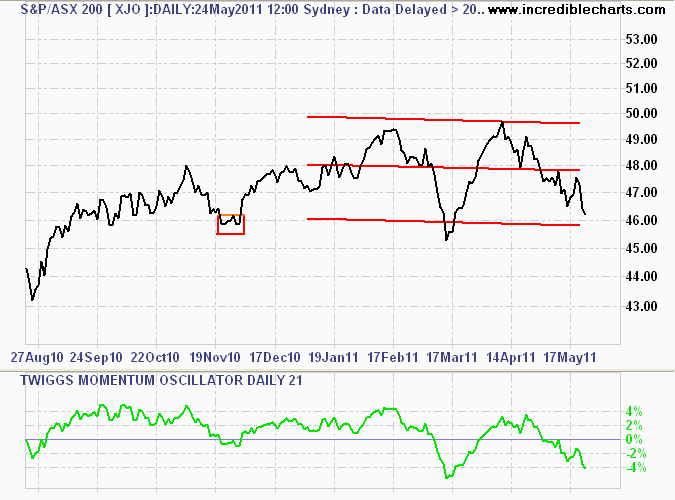 Gold Stocks
In my morning article I made mention that gold priced in AUD is going up, as the USD rallies against all major currencies (including AUD obviously) whilst gold stays steady in Asian trade. The Gold ETF in AUD (Code: GOLD) is up 0.8% today and is looking very bullish (chartists will note there is a "cup and handle" pattern forming).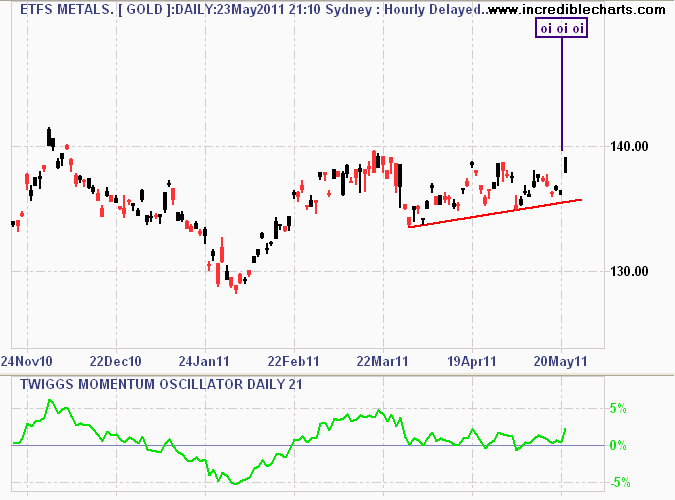 Will this translate into a trend in Aussie gold stocks? Here are some I'm watching at the moment:
Disclosure: The article is not to be taken as investment advice and the views expressed are opinions only. The author may have positions (both long and short) in any of the securities mentioned above. Readers should seek advice from someone who claims to be qualified before considering allocating capital in any investment.
Latest posts by Chris Becker
(see all)